With the Aukey EP-T21 earbuds are cheap in-ear headphones, as there are many on the market. The small, light earbuds come with Bluetooth 5.0 standard, 5h battery life alone + 20h charging case and touch function. Doesn't sound bad at first and is very inexpensive for around 30 €. Here you can read my experience with the tested Aukey Earbuds EP-T21 - Have fun - Test: Aukey EP-T21 Earbuds - True Wireless In-Ears
Scope of delivery - Earbuds EP-T21 from Aukey
Let's look at the scope of delivery of the Bluetooth headphones. Simply but adequately supplied in a cardboard box, it contains the following:
2x real wireless earphones (a 40mhA battery) that connect to each other when removed from the charging case
1x charging case (380 mhA battery) - This allows the earbuds to be charged 3-4 times more
3 pairs of ear pieces (S / M / L) - there should be something for each ear
1x USB-A to micro USB cable - unfortunately the charging case has NO USB-C
1x user manual
1x Quick Start Guide
Technical data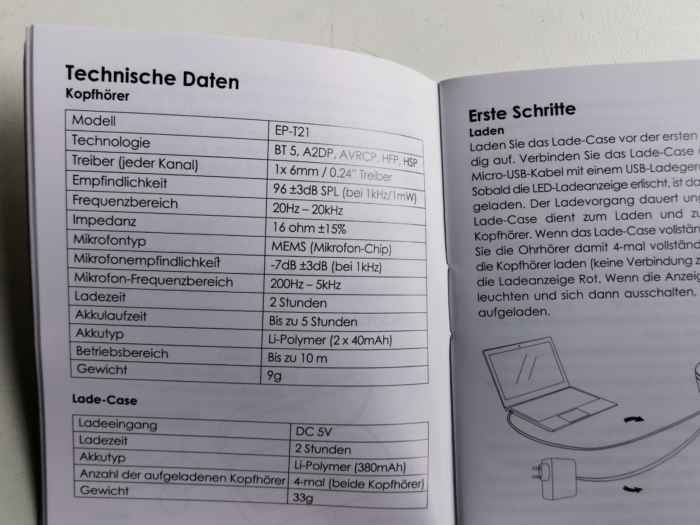 Design - Aukey EP-T21
Earphones - earbuds
The design comes close to the Apple Airpods and otherwise this typical stem design is almost common. I like it very much and also like the color black. I prefer this design to any round button design of some Bluetooth headphones because it just doesn't look clunky in the ear. The headphones are IPX4 sweat and water resistant.
charging Case
The charging case is very small and light. Practical to use for charging the wireless in-ear headphones, as they slide cleanly into the charging cradles with contacts using a magnet.
Commissioning, handling & quality - Aukey EP-T21
Check out the operating instructions and the quick start guide included in order to avoid errors. At least men do it afterwards 🙂
Shop
Before the Aukey True Wireless in-ear headphones are used, they are fully charged. Place both earbuds in the charging case and connect to the power if the charging case is empty. The LED in the respective wireless headphones will light up RED continuously. At GRÜN they are fully charged. The charging case also lights up RED continuously when it is being charged.
The headphones alone should be able to hold and play for up to 5 hours on a single charge, and yes, according to my tests, they really last very long, sometimes even longer. Depending on the volume and connection to the device, this can of course fluctuate somewhat. Still, I'm surprised 5h is not a gimmick. If the batteries are empty, you can quickly recharge them in the charging case in 1,5 hours, which goes up to 4 times with the capacity of the charging case.
Pairing
Pairing with your devices like smartphone, tablet or Fire-TV stick is pretty easy. Activate the Bluetooth in the respective device and then click on SEARCH or add Bluetooth devices. Take the Aukey EP-T21 earbuds out of the charging case, they activate, flash green-red and connect to each other. The Aukey EP-T21 should now be found in your device to pair. This only needs to be done once. If you put the earbuds back in the charging case, they switch off, if you take them out again, they will now automatically connect to your registered device.
The pairing worked smoothly for me on my smartphone, Fire HD 10 tablet and Fire-TV stick.
Sound & wearing comfort | Aukey EP-T21
So far I know wired headphones with Bluetooth from Aukey or real wireless in-ear headphones from Havit. With the matching earpieces, the earbuds fit well in the ear and closed off great. The music started and WOW what a bass, I didn't know that before. After several hours with music, videos and telephony in my ears, I can say the quality is great for this price. The wearing comfort due to the light 5 gram earphones was still very pleasant after hours and hardly felt during sport. The volume in the maximum range was very good, other products were at maximum, but a bit too quiet.
Update: Aukey EP-T21 vs. JBL Free headphones
I could now do a test with the JBL Free In-Earbuds to have a comparison to the EP-T21. What can I say, the more expensive JBL Free totally disappointed. I completely lacked the soft, dull bass with corresponding volume, as with the EP-T21 earbuds. The enthusiasm of the Aukey headphones and what you get for about 30 € is really amazing! I am enthusiastic and can only say that more expensive does not always have to be better.
Device control
During operation, you can use the touch function on the left or right in-ear headphones on the Aukey EP-T21.
Double tap for play / pause function or to answer / end calls
1x hold right headphone "next track" or 1x hold left headphone "previous track"
3x tap activates the voice assistant in the device
Volume control only possible on the paired device
Conclusion: Aukey EP-T21 Earbuds True Wireless
A bit skeptical at first, but after the experience and testing, I can say that Aukey has brought something really good with the Aukey EP-T21 Earbuds True Wireless and that for a low price. The earbuds are very light to wear, connect quickly and last for hours, and I think the sound is pretty decent. The bass is the best I know to date. They are cheap and still great! Buy recommendation!
Update: Unfortunately I could not find a way to adjust the volume in connection with the Fire-TV stick. Volume is always at maximum. If someone has a solution or tip, feel free to write.
other products from Aukey
Find the best & best-selling Aukey products 2022 in Honest Tests in the Top🔟
1. Top seller
Mobile phone holder car magnet car holder - AUKUK mobile phone holder...*
【Design for iPhone 13/12 Series】 Car phone holder for iPhone 13 and 12 series. This car phone holder can hold the iPhone 12 pro max...
【Fix your phone firmly to the car cell phone holder】 Car cell phone holder With non-slip pad clips, additional support arms ...
【360 Degree Rotation】Car phone mount with 360° adjustable swivel wheel that can fix your phone at any angle for the best view....
2. Top seller
3. Top seller
4. Top seller
5. Top seller
6. Top seller
7. Top seller
8. Top seller
- € 1,00
9. Top seller
10. Top seller
[2 pieces] iVoler mobile phone holder car universal magnet ventilation...*
iVoler Car Phone Holder Air Vent Magnetic Car Phone Holder can hold your phone firmly and securely. Perfect for your phone and GPS,...
HIGH-PERFORMANCE MAGNETIC POWER: With the built-in magnet and the metal head, your cell phone or GPS can be held securely in place, care ...
LIGHT, COMPACT AND DURABLE: With small dimensions and low weight, it saves space and can also be a good companion when you drive or ...
Reading tips: coole DIY Projects | Fitness | You like product testing read?
Product selection
Updated June 1, 2023 14:05 am
---
* Product images & links | Source: Amazon PA API | Last update on 2.06.2023/XNUMX/XNUMX | * = Affiliate links | Prices quoted on this website may have changed. The actual price of a product can be found on the seller's website. Real-time updates are technically not possible. Prices including VAT plus shipping costs
---