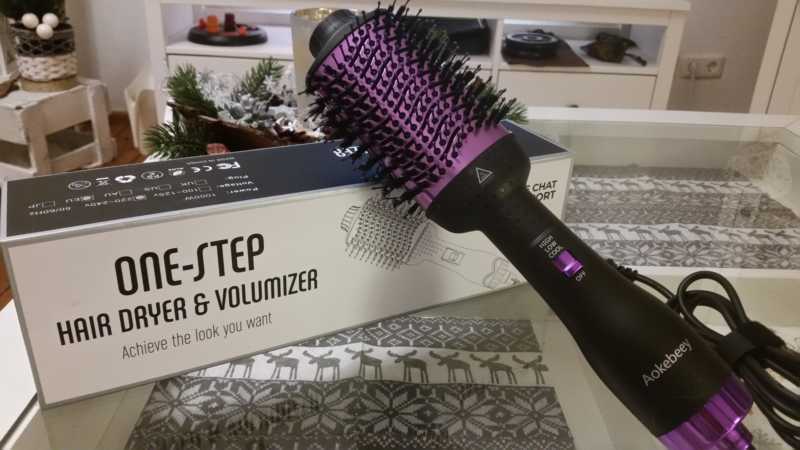 Aokebeey One-Step Hair Dryer | Hot air brush | Curling iron | Hair dryer brush Round brush for all hair types
Are you looking for a new hair dryer for thick, fine or thin hair? Do you want to style your hair elegantly? The One-Step Hairstyler is the solution to your problem. I also searched for a styling brush for a long time and came across the Aokebeey hair dryer. I took a closer look at the Aokebeey styling brush. How is the handling? How is it in your hand? How are the bristles Does he really make such beautiful curls or straighten the hair? I look how the Aokebeey styling brush with the 3 adjustable temperature levels is for artificial hair. - Aokebeey one-step
UPGRADE: This is the 2nd generation of the Aokebeey styling brush, with some improvements to the 1st generation.
Included in the set | Aokebeey one-step
This was included in my package:
Aokebeey One-Step hair dryer
Yes, there was simply nothing more, no instructions, tips or information on use and care.

Technical data
| | |
| --- | --- |
| Automatic rotation | Ja |
| Rotating direction | Ja |
| Coating of heating areas | Ceramics with keratin |
| cable length | 2m |
| cable joint | Yes 360 ° rotatable |
| Performance | 1000 |
| Temperature: | 60 ° C - 120 ° C |
| | |
| --- | --- |
| tension | 220 - 240 V |
| Weight | 600 g |
First impression | Aokebeey One-Step 5in1 hot air brush
When I unpacked the hairdryer, I was very surprised by the size, it was bigger than I thought. I found it all the better because the hairdryer was comfortable to hold. It is also very light. I found the three temperature levels of the Aokebeey styling brush to be very good. I was very curious whether the hair dryer would blow dry my artificial hair shiny.
Product Details | Aokebeey one-step hair dryer
The Aokebeey hair dryer is an electric hot air brush. This Hot Air Brush has 3 temperature levels Cool, Low and High. You need a lot of heat for thick hair and less heat for fine or thin hair. This device is a combination of hair dryer and round brush.
The One-Styler has a ceramic brush and this ensures good heat distribution, which prevents the hair from overheating. The large brush can be used to straighten waves, curls or hair. Of the Hairdryer is perfect for dry or damp hair (towel-dry). The ceramic brush has tufted bristles and needle bristles made of nylon. The nylon brushes make the hair dryer easy to clean. The nylon bristles avoid static charges and eliminate frizz hair, the result is beautifully shiny hair.
The joint at the lower end can be rotated 360 degrees and prevents the cable from tangling. The power cable is 2 meters long. The One-Step Hairstyler can therefore be easily operated from any angle. With the new technology, hair drying is accelerated and saves a lot of time in the morning.
Photos one-step
Application | Aokebeey hair dryer
Of course, I only washed my hair first. After that I got my hair towel-dried and parted it off. Then I started blow drying the hair with the One-Step 5in1. I took a single strand of hair and ran a hairstyler through my hair.
I found handling this one styling brush very easy. It was very good in the hand and was not difficult at all.
With the joint at the end, I had no problems with the cable at all. I was very good at curling myself with the styling brush or blow-drying it smooth. It only took me 20 minutes to style my hair. In the end, I had voluminous shiny hair and an elegant look.
**Tip: To get beautiful curls, put the hot air brush on the bottom of the hair. Then turn the hot air brush slightly upwards, hold it for two to three seconds and then turn it down again.
**Tip: Don't style your hair with too wet or damp hair! Otherwise they can easily become matted in the brush.
Benefits
✔ easy handling ✔ several styling functions ✔ no hair burn ✔ ceramic coating ✔ 3 temperature levels (Cool, Low, High) ✔ 5 in 1 device
Disadvantages
✘ unfortunately no pocket ✘ needs some practice when styling ✘ a little big for traveling
Conclusion - Aokebeey One-Step
I am really more than thrilled with the Aokebeey One-Step hair dryer. Before I did different styling brushes tried, none of them was as good as the Aokebeey One-Step. Other styling brushes gave me split ends and my hair became dull. My artificial hair felt better after just three uses. With the Aokebeey styling brush, I felt that my hair was getting shiny. I can recommend this styling brush to any beauty queen. You save time in the bathroom and have an elegant look. The handling of the styling brush is very easy and for everyone. So guys, if you don't have a Christmas present or are still looking for it :) I hope you enjoy using the Aokebeey styling brush.
more products by Aokebeey
Product selection
Updated March 14, 2023 8:52 PM
---
* Product images & links | Source: Amazon PA API | Last update on 26.03.2023/XNUMX/XNUMX | * = Affiliate links | Prices quoted on this website may have changed. The actual price of a product can be found on the seller's website. Real-time updates are technically not possible. Prices including VAT plus shipping costs
---