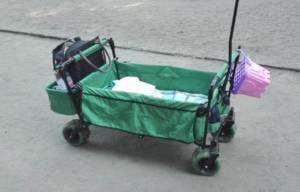 What you can use a foldable handcart for
Handcart - foldable: Children, tools, garden waste or the classic beer crates at Father's Day parade. Such a handcart is used in many areas of daily life. Just as there are different uses, there are different models and designs. Metal or wood? Which material is better suited for the purpose?
Then there is the question of the tires, which also depends on the type of surface that is most often used, whether a roof is part of it or not, how heavy the whole car can or may be, what size it should ultimately have and how the whole thing should be in the Car has to fit. - Which in turn depends on the manageability of the folding. So there is a lot to clarify, a lot to consider and therefore a lot to decide. That's why we wrote this guide. - Handcart - foldable - Top 10
Handcart - foldable - in comparison
Which cart is suitable for which purpose?
Since not every wagon is suitable for every transport item, here is an overview of what to look for:
Kids
Those who like to be out for a longer period of time or also want to go to the beach often have the problem that they can no longer walk if the children are too small. From a certain size, a sling becomes too unwieldy and where to put what you want or have to take with you. Strollers on sand on the beach are a hindrance. Solution: a handcart. From around 18 months, child-safe transport in a handcart is easy to carry out.
It can serve as a means of transport and also as a place for lunch. It can be padded softly and does not run the risk of tipping over. Make sure the side walls are high enough so that your child cannot fall out. The foldable handcarts for children should be made of soft material, this not only saves weight, but also prevents injuries, especially with smaller ones.
A stable ache, a parking brake and large tires filled with air ensure good stability even in sand or snow. Some Handcart can be equipped with accessories. These include bottle holders, sun canopies or lighting and outside pockets. The foldable companion weighs around 10 kilograms on average. However, it is essential to pay attention to the permissible load that the trolley can withstand. Most models can bear a weight between 50-100 kilos.
Carts for equipment
An extra equipment cart, which also folds. Not so small, but the side walls are removable and so can a garden or tool-cart to save space and also transport. These models are made of sturdy metal and a tarpaulin. About 500 kilos you can pull with such a device. Its own weight is low with about 20 - 25 kilos. Which makes it even more effective. Solid rubber tires allow safe transport even on construction sites. Also in the garden such a wagon is a good helper.
Carts for shopping
If you walk a lot and a classic wheelchair is too small for you, you also need a rolling helper. Most folding handcarts are ideally suited for this, as they are very light and can be stowed away in no time to save space. The slightly cheaper models may be sufficient here, as shopping cannot hop around or try to climb out of the handcart. But what you should also pay attention to here is good stability and the permissible total weight. So you can also take it on hiking tours.
The tires make the biggest difference here. Those who walk a lot in the forest are better advised with large, soft tires than the "city Indian" who only has to cover short distances on asphalt. Perhaps a classic wooden wagon is more suitable here. Some models can at least be rebuilt. But much more stable and have a load capacity of around 150 kilos.
Which material is best?
What is not exactly a tool handcart that has to endure an infinite amount of weight, gets along well with a foldable handcart. The material is often made of nylon. This is robust and easy to clean. Downside if it's cracked it's hard to mend. There are models with a roof, and some can be retrofitted accordingly. The foldable carts are light, can be accommodated in any small car, have integrated padding, usually a roof and there are many accessories to buy. - Handcart - foldable
Wood has its advantages, but some wheeled cars are not very clean and they lack a protective coating. In addition, the wood must be maintained if necessary. A roof is also not provided in most cases. If children are to be transported in the car, the car must first be padded extra.
What you should consider when buying - handcart - foldable
Briefly outlined an overview of things to look out for when buying a handcart - foldable:
For what or who should the wagon be used?
How much money can I or do I want to spend on it?
how much extra kilo does he have to endure?
which tires are needed? Do I need a wagon with big tires?
which terrain do I mostly drive?
Do I need a wagon with big wheels?
how much space do I have, for example, in a car to transport the car in a folded state?
Do I need accessories? If so, which?
Do I need a wagon with a roof?
is a parking brake installed?
How many children do I want or need to transport in it? Optional: how many boxes of beer?
is the stability sufficient for my purposes?
These are the most important considerations to deal with when buying a foldable car.
Where to buy it best
It is favorable to look at the wagon on site. Especially if he has to have certain properties. So one can convince oneself in a specialized trade directly from the quality, the stability, the security and also the materials. He must not rattle, must be common to fold, the drawbar must be stable, the tires maybe repairable. The children must not be able to pinch anywhere and be protected from falling out. Well-known manufacturers also have good offers on the internet that you can rely on. Here it is advantageous to make clever offers and actions. You can find a selection here on our website.
Advantages and disadvantages handcart - faltba
A wagon has its purpose and, in contrast to other means of transport, always fulfills its purpose. The advantages and disadvantages thus arise from the task that the wagon has to accomplish. Depending on what he is used for and how much he has to carry or how he is being transported.
Conclusion: handcart - foldable
If you want to call a good foldable cart, with or without a roof, you depend on the quality of the manufacturer. This sometimes has its price, but should not be saved if the assistant should be used more often. The various possibilities, materials and weight classes make it possible to respond to every need.
Popular handcart foldable buy | Buy handcarts foldable online
Buy handcart foldable - top 10 topseller list
Topseller 6
Topseller 7
loading ...
Find top 10 products
(best-selling & rated products)
Reading tips: coole DIY Projects | Fitness | You like product testing read?
foldable handcart - buying guide
We have one for you
List of purchase criteria
created. It protects you from mishaps and possible annoyance in the year 2021. Get your knowledge from buyers, friends and the internet. Before you have products on the topic
foldable carts
want to buy, be smart about these and be well prepared. on
Honest tests
you can find some tests (including
pool
,
Fitness
,
Home & garden
) &
How-To
(including
Smart Home
,
Beauty
,
craft
) who can help you further.
Your questions that you should ask yourself to find your suitable product.
What budget do I have to buy?
What do I want to do exactly with the product?
Where can I find foldable handcarts at a good price?
Which foldable handcart products do other people recommend?
What is the best way to use the foldable handcart? Is there any information on the Internet?
What is the quality of foldable handcart?
How to Properly Use Foldable Handcarts!
What are the special features of this product that I really want to have?
Are there often problems with foldable handcart products?
What is the shelf life of the product?
Can you find solutions to the problem?
Do you find foldable handcart tests or on the Internet foldable handcart comparisons?
How many people recommended or rated foldable handcarts in 2021?
Share the foldable handcart contribution.
Reading tips: than How-To read | kitchen Tips | You like product testing read?
---
* Product images & links | Source: Amazon PA API | Last update on 29.11.2021/XNUMX/XNUMX | * = Affiliate links | Prices quoted on this website may have changed. The actual price of a product can be found on the seller's website. Real-time updates are technically not possible. Prices including VAT plus shipping costs
---