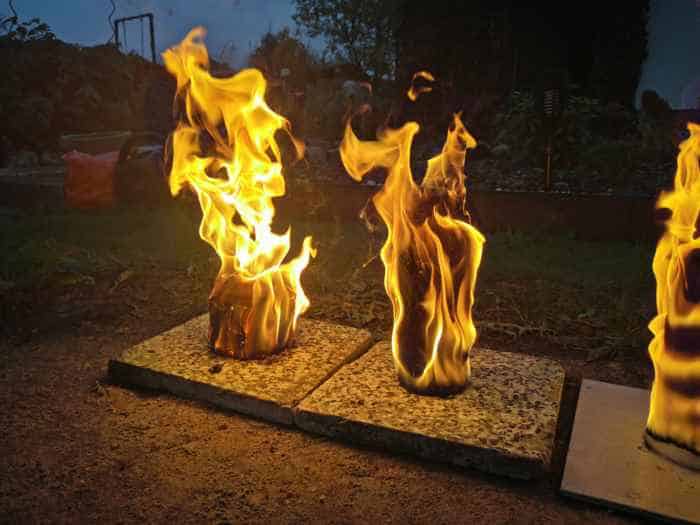 At this time of year it gets darker and earlier and so the idea for a party or the garden came up "Let's build torches ourselves" on. So on YouTube and get inspired. Torches with oil or with wax was now the question. The base material should be a roll of toilet paper. We just decided to test both.
We build DIY torches with oil and DIY torches with wax. In addition, we do this not only with toilet paper rolls, but also with kitchen paper rolls.
Which DIY torches burn longer? Which DIY torch burns nicer? What are the differences and advantages of a DIY torch made of wax and a DIY torch made of OIL or toilet paper and kitchen roll? We tested it and here you will find our experience and tips for making torches yourself.
DIY torches | You need to do this yourself
For our test we have a total of 2,4 kg candle waxs searched together. The wax came from old unused candles, burned down candles or leftover wax. The wax did not cost anything in this case (before, but not for this test 🙂). who Buy wax extra must, should 500g wax / candles get cheap for 1-2 € in the store or Order cheap wax / candles online. We bought for the oil Sunflower oil for 0,97 € the 1 liter in the discounter.
After we have already tested the whole thing, here you will find a list and measurements for the things that you need and should work well in the ratio.
DIY torch with wax
➨ Toilet paper roll (3-ply) or kitchen roll
➨ approx. 400-500g wax (Leftover candle wax or buy)
➨ pot or a high pan (to melt the wax)
➨ Fireplace for heating (Hot plate, grill etc.)
➨ document (Newspaper, cardboard etc.)
➨ Kitchen ladle (for stirring and pouring over the wax)
➨ tongs (to turn and turn)

DIY torch with oil
➨ Toilet paper roll (3-ply) or kitchen roll
➨ approx. 500ml OIL (Sunflower oil or other)
➨ Container or plate (for sucking up and soaking the oil)
➨ tongs (to turn and turn)


Do it yourself torches with wax
For the DIY wax torch you will of course need wax, the more the better! We have a total of 2,4 kg. We could get out of that 5 toilet paper rolls and 1 kitchen roll 6 wax torches do it yourself.
For each torch made of wax that was approx. 400g with approx. 500g you really have enough for one torch. It also always depends on how much you pour wax over or immerse. With 400g we only had the most essential wax absorbed, more could not hurt.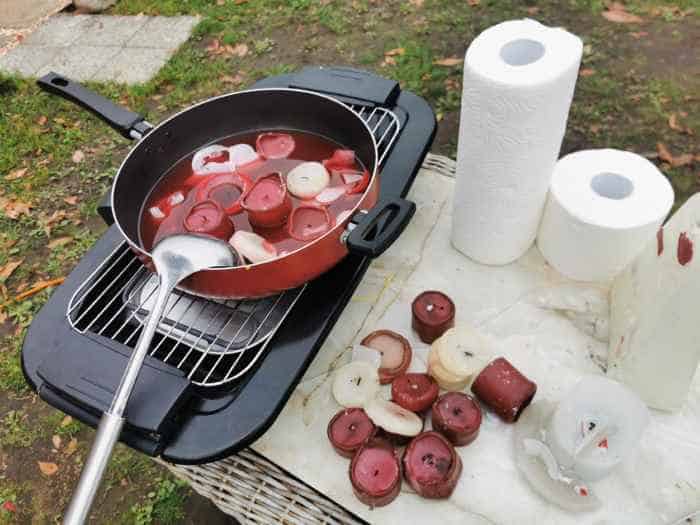 A Electric grill was enough to get the wax from 40 degrees to melt. Old table as a base. A ladle to stir. Barbecue tongs were great for turning the toilet rolls and removing the hot torches with wax.
The wax is completely melted, now you can soak a toilet paper roll full of wax. From the halfway point you turn it.
Danger! Please be careful with children! HOT! Don't let anything fall in, it can splash!
The DIY torch with wax is ready and can be taken out of the pot to cool and dry. Place them on the prepared surface.
We do the same with a kitchen roll. The bigger the pot, the better. The grill tongs help a lot.
Then put 3 toilet paper rolls in the pot at the same time so that it goes faster. Only with plenty of wax in the pot!
Note: the more paper a kitchen roll or toilet roll has, the more fuel it has and can absorb more wax, which can increase the burning time. Pouring wax over it several times to get a thicker layer of wax affects the burning time in the same way. That means you need a lot more wax, of course! Read more about wax!
Do-it-yourself torches with oil
The toilet roll and kitchen roll just have to be completely soaked with oil. The best thing to do is to use one tall pot. With what we took, not really good for turning and vacuuming
According to our knowledge, should 500ml is enough for one toilet rolln. We feel that a kitchen roll should be a little more, but we used 500ml for the torch made of oil for testing. It is best to leave them on a plate until you are ready to use them.
Note: The burning time of DIY torches with wax can be different! Candle wax contains paraffin, which can be different for every candle and influences the burning time and the burning process. We used a mix of many candles that everyone might have on leftovers in the household. The values ​​& results can be different for everyone and therefore this test is only a kind of little guideline of what you can expect if you want to make such DIY torches.
DIY torches with wax VS. DIY torches with OIL
Now we want to know! What burns better, longer, nicer? What is the difference between a toilet roll and a kitchen roll or wax and oil? We line everything up and set them on fire at the same time!
Tip: To light up, just take a few drops of grill lighter or, if you have one, the wicks from the candles!
4 Minutes

After 4 minutes, all DIY torches will have a nice flame. The kitchen roll with oil obviously doesn't burn down so quickly from above.
8 Minutes
The wax extends the flame down faster, which doesn't mean it will burn down faster. There is a nicer big flame. The oil, on the other hand, only burns slowly from above, the flame appears smaller.
20 Minutes
All DIY torches burn brightly. The torches with wax look more burnt down. The torches with oil are not completely on fire. Both variants currently give a good flame picture.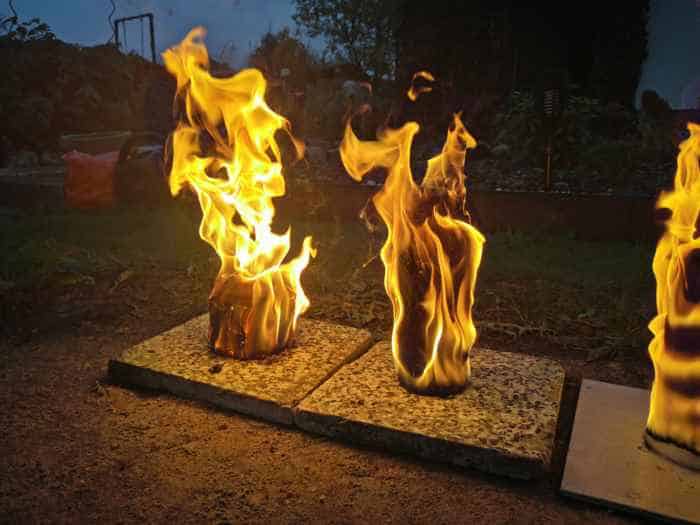 30 Minutes
You already have the feeling that torches with wax burn down faster. A torch made of paper towel and wax burns down the fastest. The oil amazes us a little.
40 Minutes
We can't recommend a DIY torch made from paper towels with wax. Either there was not enough wax or, due to the structure, there was more air in the kitchen roll, which then burns off faster.
50 Minutes
Furthermore, the DIY torches with toilet paper are still burning very well. The kitchen roll with oil still burns, but for how long?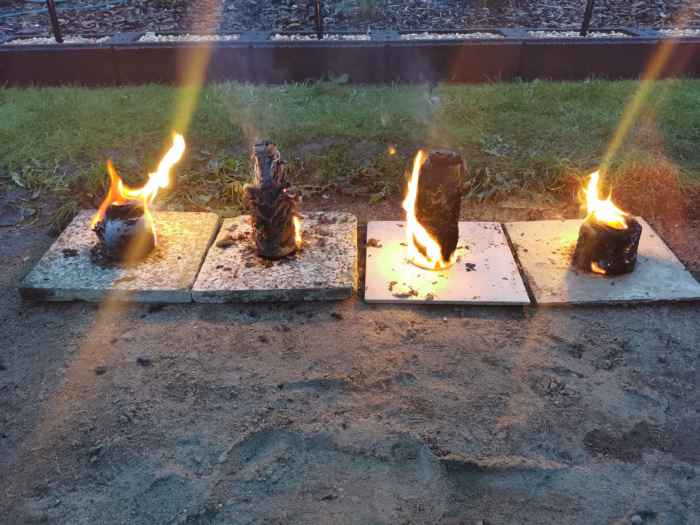 60 Minutes
An hour has now passed and you can see which torch is still well in the running.
70 Minutes
The torch with kitchen paper and oil only has a kind of Bunsen burner flame and is as good as out. The remaining two DIY torches are still burning where the flame that dances with wax creates more.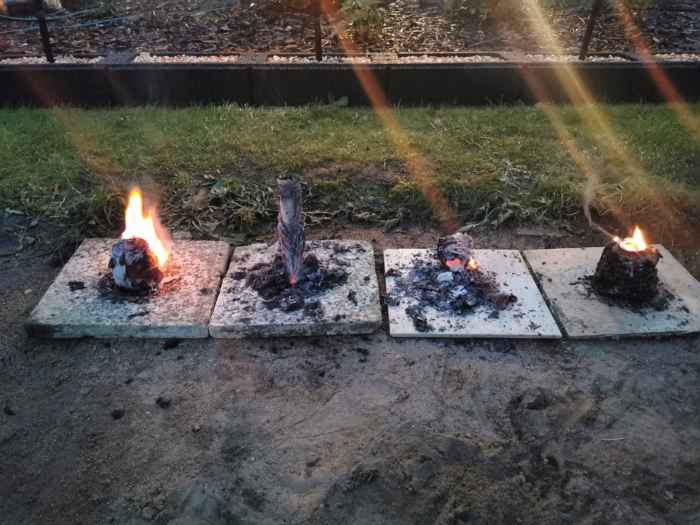 80 Minutes
It is drawing to a close. On the right the torch with oil only has a small flame on top. The left torch still has a bigger flame, both will probably go out soon.
83 Minutes
The two DIY torches made of wax and OIL went out almost at the same time, unbelievable. Now we can draw a conclusion.
Test results & conclusion: DIY torches do it yourself
TP = toilet paper KP = kitchen roll paper
Art
TP with wax
TP with oil
KP with wax
KP with oil
The Brand
Collect and melt wax, soak and turn
Bowl with oil and soak and turn
Collect and melt wax, soak and turn
Bowl with oil and soak & turn
burning time
about 1,5 h
about 1,5 h
about 50 Min
about 1 h
impression
Nice flame, burns as a whole
Flame good, but not always as beautiful as with wax
Nice elongated flame burns as a whole
elongated flame later, burns from top to bottom, first shorter flame.
Benefits
Burns a long, beautiful flame, handicraft time with children, keep using old candles
low expenditure of time, quick production & harmless
beautiful flame
, Craft time with children,
Reuse old candles
low expenditure of time, quick production & harmless
Disadvantages
Time and effort to manufacture, no wax (BUY!), Risk of injury (hot) many utensils required
burns differently than wax, but still a good torch
Time and effort to manufacture, no wax (BUY!), Risk of injury (hot), many utensils required
burns differently than wax, but still a good torch, burns down faster
Rating
â € â €
⭐⭐⭐⭐⭐
⭐⭐
â €
Summary
Mega torch, time consuming and can cost wax. Effort high
Super torch, very little time and effort, little cost, hardly any utensils
Great torch, but the burning time is too short, time-consuming and can cause costs for wax, high effort
Good torch, but short burning time, nevertheless quickly manufactured, costs low
Making wax torches yourself with children is a great leisure time and fun. So you still use the remaining wax from burned candles. It's quick and easy with oil, it burns for about as long! Have fun making torches.
Product selection
Updated March 18, 2023 5:16 PM
---
* Product images & links | Source: Amazon PA API | Last update on 2.04.2023/XNUMX/XNUMX | * = Affiliate links | Prices quoted on this website may have changed. The actual price of a product can be found on the seller's website. Real-time updates are technically not possible. Prices including VAT plus shipping costs
---