DIY gift idea - bottle with cork light chain and gnome to make yourself
This year I wanted to make the Christmas presents myself. So I came up with the Christmas gift idea. This gift idea is for mom, grandma or best friend. You can use this gift idea as a decoration or use it individually. For the gift idea you can use other decorative items as you like. You can be very creative there. You should plan 30 minutes for this decoration idea. I have a video below for you, have fun your Jule - DIY gift idea.
You need these decorative items DIY gift idea for Christmas
Buy products
You can click on the photos and get to the respective product in the shop. For more choices, click on the text link "... ..buy".
Instructions for crafting DIY Gift Ideas

It is best to start with the tree disc (18cm-20cm). You can glaze the tree slice beforehand. If the tree slice is from the forest, you should do that, otherwise it will tear. Then take a decorative bottle (0,75l) or an empty wine bottle. If you use a wine bottle, you have to rinse it out and remove the label. Place this bottle on the tree disc and fill the bottle with the LED cork light chain (20xLED, 2 meters). Now you can put the Christmas elf and the Naschi on the tree slice as you wish. Now you can wrap the Christmas decoration with the gift foil. Insert the pine cones and gift tags at the top of the bottle. Take 30 minutes for these Christmas gift ideas.
**Tip: Turn on the cork fairy lights when you put them in the bottle. So you can put the light accents better in the bottle.
**Tip: Place the collected empty bottles in hot fit water. Then leave the bottles in there for about 1 hour. So you get that bottle label off easily.
**Tip: Please make sure that the tree disc is not corrugated so much. Ideally, there should no longer be any resin if you take a natural tree slice for the Christmas gift ideas. You should glaze this. It could happen that the natural tree slice continues to dry and tear.
Ready DIY gift idea for Christmas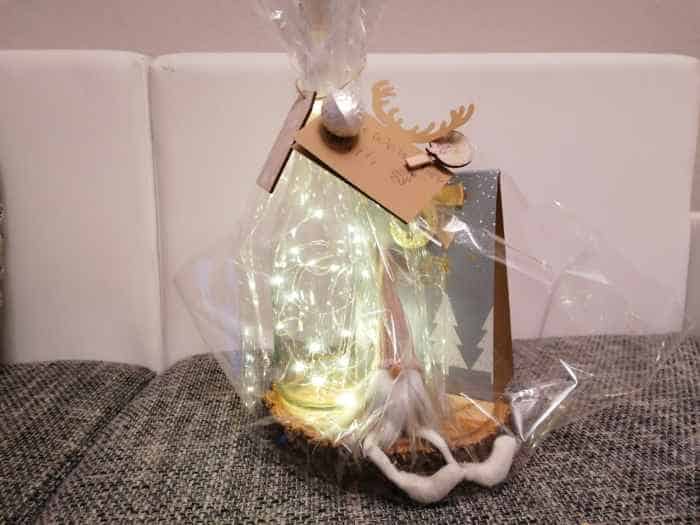 Conclusion - DIY gift idea

This is really a very simple Christmas gift idea or on other days to make yourself. What I like about this gift idea is that you can design and use it individually. The tree slice could be used as a flower mat or the wine / decorative bottle also fits anywhere. You can let your creativity run wild with this gift idea. I wish you a lot of fun doing it yourself and giving it away :)
other decorative items
Product selection
Updated December 10, 2023 13:23
---
* Product images & links | Source: Amazon PA API | Last update on 11.12.2023/XNUMX/XNUMX | * = Affiliate links | Prices quoted on this website may have changed. The actual price of a product can be found on the seller's website. Real-time updates are technically not possible. Prices including VAT plus shipping costs
---