Who visites Peanut butter or peanut butter likes to eat, here's a tip for him. There are many varieties from many countries, but here I would like to mine Peanut butter from Argentina bring closer.
Why Manilife Peanut Butter?
I present you the Peanut butter from ManiLife before and why I ended up with this one. There are countless varieties of peanut butter and peanut butter on the Internet and in stores. Many manufacturers produce in China, with added sugar or other additives. I wanted NO peanut butter
(Peanuts) from China to have!
Peanut Butter or Peanut Butter ?: There is no difference between the two. Peanut butter is the more common term. Peanut butter is often suggested or viewed by the consumer as the healthier one with fewer additives (salt, sugar or palm oil). Peanut butter sounds more like fat and additives, but it doesn't have to be. So always look at the list of ingredients. Peanut cream or peanut paste are all the same! I primarily use the term "peanut butter" here.
The peanut butter from Argentina is made by ManiLife with peanuts from a single farm in Cordoba, Argentina. Manilife produces according to its own information completely without palm oil or added sugar. As much as possible, I wanted 100% peanuts only without many additives. There are several variations in taste.
| # | Preview | Product | Rating | Price | |
| --- | --- | --- | --- | --- | --- |
| 1 | | ManiLife peanut butter - all natural, one growing area, ... * | 1.236 Reviews | 14,99€ | To the offer ➤ |
| 2 | | ManiLife peanut butter - peanut butter - all natural, ... * | 519 Reviews | 14,99€ | To the offer ➤ |
| 3 | | ManiLife peanut butter - peanut butter - all natural, ... * | 354 Reviews | 14,99€ | To the offer ➤ |
| 4 | | ManiLife peanut butter - peanut butter - all natural, ... * | 401 Reviews | 14,99€ | To the offer ➤ |
| 5 | | ManiLife Peanut Butter 4kg - Peanut Butter - Everything ... * | 68 Reviews | 49,99€ | To the offer ➤ |
| 6 | | ManiLife - Deep Roast Crunchy Peanut Butter - Peanut Butter ... * | 1 Reviews | 5,80€ | To the offer ➤ |
ManiLife peanut butter "Smooth"
My choice fell on the 1. Order on peanut butter "SMOOTH" so without bits or without crunchy. 1 kg sounds like a lot at first, but they can become all very quickly;). The Peanut butter from Argentina should be stored in a cool and dry place, if you like them more solid, then store them in the refrigerator. This variant has 99,1% Erdnüsse with high oleic acid content and 0,9% sea salt. The taste convinced me. 100% peanut flavor not too bland, salty or weird. On the Internet you can read a lot that it tastes one way or the other, I can't find anything negative for my taste and otherwise there are more positive reports about the taste. Tastes are just different.
Tip: Before eating or using the peanut butter, be sure to stir it thoroughly, as the oil will settle on the top. You will have a good consistency again after stirring.
The 1 Kg Peanut butter from Argentina ran out very quickly after the 1st order and so a 2nd order was made 1x ManiLife peanut butter "Smooth" and 1x ManiLife Peanut Butter Deep Roast "Smooth". Watch out if you ManiLife peanut butter "Original" buys this is with CRUNCH. As always, the delivery was fast and well packaged.
ManiLife Peanut Butter Deep Roast "Smooth"
This Peanut butter from Argentina I wanted to try it out and know how different it tastes. Deep roast means that Peanuts roasted longer this gives the peanut butter a deeper, brownish color. The taste is reminiscent of burnt toast. For me, this more intense burnt taste was not my thing. I still used it, but I don't have to order the "DEEP ROAST" peanut butter again.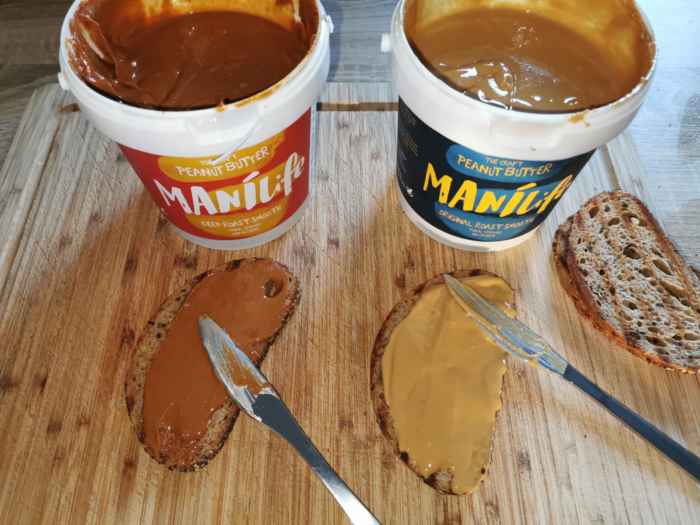 Tip: Just try a spread Peanut Butter and Nutella. Tastes very cool and reminds of Snickers. Peanut butter with crunch brings it even closer to Snickers. 🙂
Do you have your own favorite peanut butter that you can recommend or even a recipe with peanut butter for smoothies, sauces, salads or cakes? Feel free to send an email or write in the comments. 🙂
more products from ManiLife
Buy Popular ManiLife Peanut Butter | Buy ManiLife Peanut Butter online cheap
Top 10 - ManiLife Erdnussbutter
Topseller 1
Topseller 2
ManiLife peanut butter - peanut butter - all natural, ... *
USES ONLY THE FINEST PEANUTS FROM A SINGLE FARM IN ...
WITHOUT ADDED SUGAR, ABSOLUTELY NO PALM OIL - Although our ...
THE INGREDIENT OF THE CHAMPIONS - give your porridge strength to ...
GOOD PEOPLE, GREAT INGREDIENTS, ONLY IN SMALL QUANTITIES ...
Find top 10 products
(best-selling & rated products)
Reading tips: coole DIY Projects | Fitness | You like product testing read?
---
* Product images & links | Source: Amazon PA API | Last update on 7.12.2021/XNUMX/XNUMX | * = Affiliate links | Prices quoted on this website may have changed. The actual price of a product can be found on the seller's website. Real-time updates are technically not possible. Prices including VAT plus shipping costs
---