Cordless grass and shrub shears: The reason for my purchase was that I have a lot of furniture and decorative items on my approximately 60 m2 lawn and I was therefore looking for a cordless grass and shrub shear that cuts exactly the places that are Lawnmower does not work.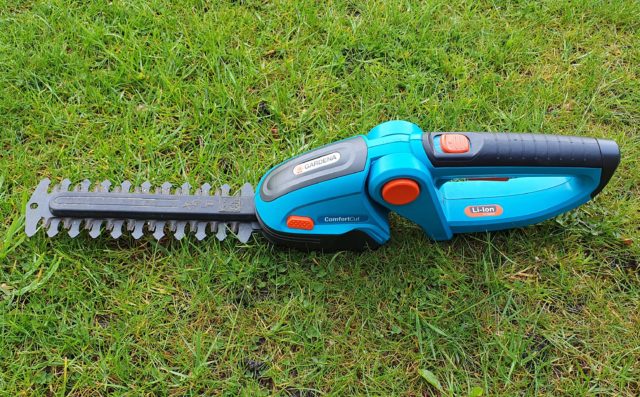 The scissors from Gardena has an integrated battery and is offered with a charger. The total price is around 100 euros as a set and is offered with knife protection for storage.
I have tested the battery-operated scissors and state the strengths and weaknesses in the following text.
Battery shrub shears in comparison
Adjustment options / handling
The Gardena battery grass and shrub shears lie comfortable in the handHowever, the weight of 800 grams can be a bit difficult to maintain in the long run. Basically, commissioning is kept quite simple, only the unlocking and power buttons have to be pressed at the same time. The Knives are very sharp and you should therefore always take care of your own safety. Nevertheless, I find the handling to be pleasant, the operation itself is absolutely self-explanatory.
Handle is with rubber covered, so that a long use can take place without problems. In addition, the comfort handle can be angled depending on the application and optimally adapts to the natural hand position.
After the battery is fully charged, which can be seen from the built-in LED, the cut can already begin. The operating time in one piece is limited by the manufacturer to 90 minutes before another charging process is necessary.
Cutting width grass knife: 8 cm
Cutting length shrub knife: 18 cm
Quality knife non-stick coated: yes
Knives can be changed at will. Amazingly, you don't need any tools for this, you can change it yourself.
First use - good result?
I first started working on the overhanging grass on the sandpit, which I usually cut with manual scissors, which I found to be insufficient and too time-consuming for a while. Gardena cordless grass and shrub shears have an enormous advantage here due to the continuously rotating blades. You save a lot of time in practice.
Here, however, I noticed that the grass, especially from a certain height - in my case about 10cm - difficult to cut is because the grass is already very soft and slack. The scissors got through here, but I needed a few more attempts in the test. Otherwise that was Result really good and clean.
I could also use the Gardena cordless grass and shrub shears work very well and remove turf. What I noticed, however, is that to switch on the scissors, two buttons - one to unlock, the other to switch on - have to be pressed at the same time. In the long term, I found that to be less ergonomic and annoying in the practical test.
Now I still have to deal with various Bushes made. I had far less inconvenience here, as apparently coarser branches and bushes can be cut more easily. The result was great here!
Overall, I am satisfied with the way the Gardena cordless grass and shrub shears work and how they are handled. In particular, the permanent cutting through the battery operation simplifies the work a lot and you save enormous amount of time.
Advantages and disadvantages
Advantages
Good battery capacity
Easy handling
Sharp knife for straight cuts
Including safety devices
Well suited for shrubs
Disadvantages
Tall grass is difficult to cut
Switching on is a bit cumbersome and less ergonomic in the long run
Summary: Gardena battery grass and shrub shears
In my test, the Gardena cordless grass and shrub shears cut off positively. With the help of the strong battery, long operation can be carried out without breaks. In my practical test on 60m2 I saved 15 minutes compared to the handy scissors.
The result was satisfactory, even if Gardena can still revise the weaknesses mentioned above. Overall, the device is absolutely a relief for everyone.
I find the price of around 100 euros to be marginal, but in my opinion it could be a bit lower.
Find in the top 10 the best & best-selling cordless shrub shears products 2022 on honest tests
Topseller
% Savings %
new releases
- € 15,18
1. Top seller
- € 35,00
2. Top seller
Bosch cordless shrub and grass shears set ASB 10,8 LI ... *
3 in 1: Grass, shrub and shape-cutting scissors in a lithium-ion technology device for sculpting, cutting and trimming
Up to 100 minutes runtime with only 900 gram weight
Power under control: Compact, handy device with anti-lock system for additional cutting performance
- € 20,95
3. Top seller
Einhell 3410370 cordless grass and shrub shears GE-CG 18 Li-Solo...*
Powerful with 18 volts - an 18 V Power X-Change battery is required to operate the cordless grass shears. Battery and charger are not in ...
High-quality grass cutting blade - The cordless grass shears are supplied with a durable and high-quality grass cutting blade for precise ...
Cordless grass shears for large gardens - The low weight of the device and the cutting width of 100 mm make the cordless grass shears the perfect ...
4. Top seller
5. Top seller
6. Top seller
- € 12,14
7. Top seller
Bosch secateurs EasyShear (integrated 3.6 V battery, ... *
The Easy garden tools from Bosch - handy helpers for all small projects
2-in-1 tool: Trimming and shaping shrubs and lawn edges by simply exchanging grass shear blades and shrub shear blades
Tool-free knife change: change from shrub shear knife to grass shear blade in just a few simple steps
8. Top seller
WORKPRO cordless grass and shrub shears, handy grass shears 7,2V,...*
🌴 【2 in 1 grass and shrub shears】 Multifunctional device for cutting grass and shrubs quickly and without tools ...
🌴【Safe to Use】WORKPRO battery pruner is easy and safe to use. Two-point safety release switch ensures...
🌴【Lightweight & Ergonomic 】Weight of only 470g for comfortable operation. Ergonomic handle covered with soft rubber reduces...
- € 10,90
9. Top seller
- € 16,47
10. Top seller
Reading tips: coole DIY Projects | Fitness | You like product testing read?
Recommended reading: Robot lawn mower here
---
* Product images & links | Source: Amazon PA API | Last update on 13.05.2022/XNUMX/XNUMX | * = Affiliate links | Prices quoted on this website may have changed. The actual price of a product can be found on the seller's website. Real-time updates are technically not possible. Prices including VAT plus shipping costs
---