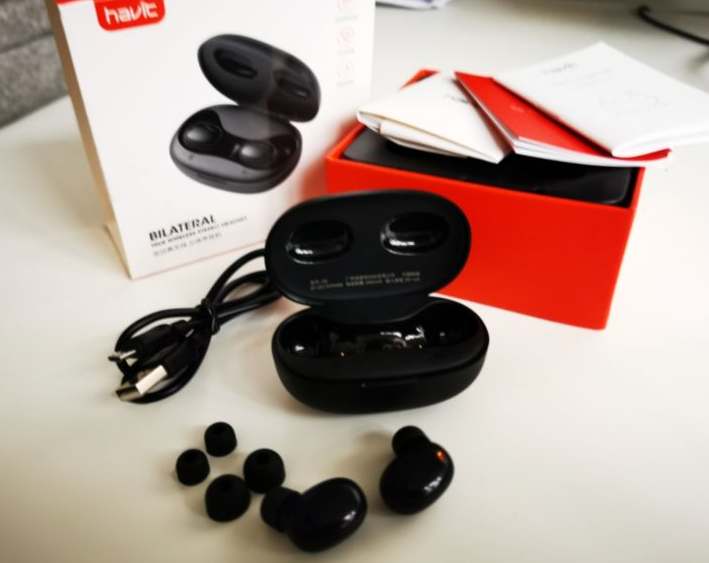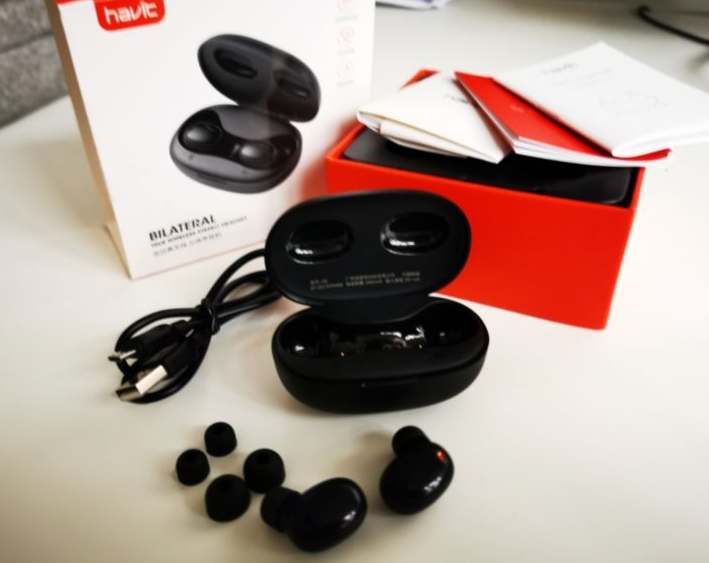 Havit i95 InEar-Blutooth headphones
Experience report on the Havit i95 in-ear headphones. Wireless Blutooth headphones are spreading more and more. I tested and tried the inexpensive in-ear headphones from Havit. You can read what you can expect for a small € 30 here. - Havit i95 InEar-Blutooth headphones
Havit i95 InEar-Blutooth headphones
What is delivered?
Product description:
In-ear headphones (per 30mAh battery)
Charging cradle (500 mAh battery)
Upholstery size: SML
Instructions
Micro USB cable (no charger for socket)
Unpacked and tested - Havit i95
The design of the whole thing is quite chic and contemporary. The wireless Bluetooth in-ear headphones were placed in the charging cradle, which was charged using micro-USB. The small Bluetooth in-ear headphones simply click into the charging cradle by magnetic attraction, simple and good. Charging now takes approx. 2 hours, an LED on the charging cradle lights up ORANGE.
Set up blood connection - Havit i95
After charging, I put the Blutooth-InEar headphones in each ear. The headphones alternate between white and orange, indicating that they are in connection mode. On the Huawei P30 Pro smartphone, I open the Blutooth settings and connect it to the Havit-i95. Easy as it should be. The range with 10 meters is okay. When listening to music in the apartment (77qm) there were no disconnections.
First impression and use
The first thing I noticed was that the headphones at 100% could have been louder for me. But that's different for everyone. The bass wasn't that intense either. If you use the phone very quietly or on the phone, you will notice a little noise. Not otherwise with music, because louder. Wearing, even with more movement, is quite good, nothing falls out of your ear. The controls are quite simple. Using the touch panel on the left or right headphones, you can pause or continue playing music with a double tap. If you press an 1-2 seconds on the touch panel, it jumps to the next track. Simple and without problems, that's how I like it. Phoning is easy. The speech quality works.
Battery Life
In my tests, the batteries have max. held for approximately 2 hours. It is definitely not enough for me. But you can recharge the Havit i95 InEar-Blutooth headphones with the charging cradle (500mAh). This of course takes some time again. For longer bike tours or hikes, 2 hours are not enough and in between there is certainly no consolation for many. Therefore, I recommend you to think about what you want to use these headphones for, so as not to experience disappointment. Do you only need them for your car to use the phone? If you only want to do short distances by bike or do some sport, then the 2 hours should be enough.
Conclusion - Havit i95 InEar-Blutooth headphones
I can't expect much for 30 €. If you think carefully about how the Havit i95 InEar-Blutooth headset should be used or for what, this set can suffice. If you want more sound quality, more battery or noise suppression, you simply have to spend more money.
further InEar Blutooth headphones
Other products from Havit
Reading tips: than Guide read | kitchen Tips | You like product testing read?
Product selection
Updated June 1, 2023 16:07 am
---
* Product images & links | Source: Amazon PA API | Last update on 2.06.2023/XNUMX/XNUMX | * = Affiliate links | Prices quoted on this website may have changed. The actual price of a product can be found on the seller's website. Real-time updates are technically not possible. Prices including VAT plus shipping costs
---