Here I would like you the LED table lamp from AUKEY to introduce. I have tested you for a long time and would like to share the most important data, my impressions and experiences with you. Perhaps one or the other is looking for an LED table lamp with a rechargeable battery and touch function. - LED table lamp
Practical LED table lamp with battery and touch control from AUKEY
Unboxing: LED table lamp from AUKEY
The lamp is delivered in solid cardboard packaging and is also well protected in foam. When unpacking the LED lamp, the materials and accessories feel high-quality and are well thought out.
When you open the box, you immediately notice the cool card with a keyhole printed on it, which turns out to be a guarantee card. The scope of delivery also includes operating instructions, which are multilingual and also in German, a USB-A to USB-C cable and of course the AUKEY LT-T8 LED lamp with touch control.
other from Aukey
| # | Preview | Products | Rating | Price | |
| --- | --- | --- | --- | --- | --- |
| 1 | | anyotherway LED bedside lamp, touch dimmable warm white...* | | | Amazon |
| 2 | | Yabtf LED bedside lamp, touch dimmable atmosphere table lamp...* | | 18,99 € | Amazon |
Unpacked and go
After unpacking the lamp, I briefly read the operating instructions. This is short and sweet, but describes all the important functions. The touch lamp should be charged first. What I can do with the included cable. What I noticed positively is that the LED lamp has a USB-C charging port and can thus be charged immediately from my cell phone via my existing cable, so no additional cable is required.
Important: A 230 volt to 5 volt USB adapter is not included and is a basic requirement!
To switch on the Aukey LED table lamp, press the multifunction button.
With the mode switch you can choose between cold white, warm white and RGB.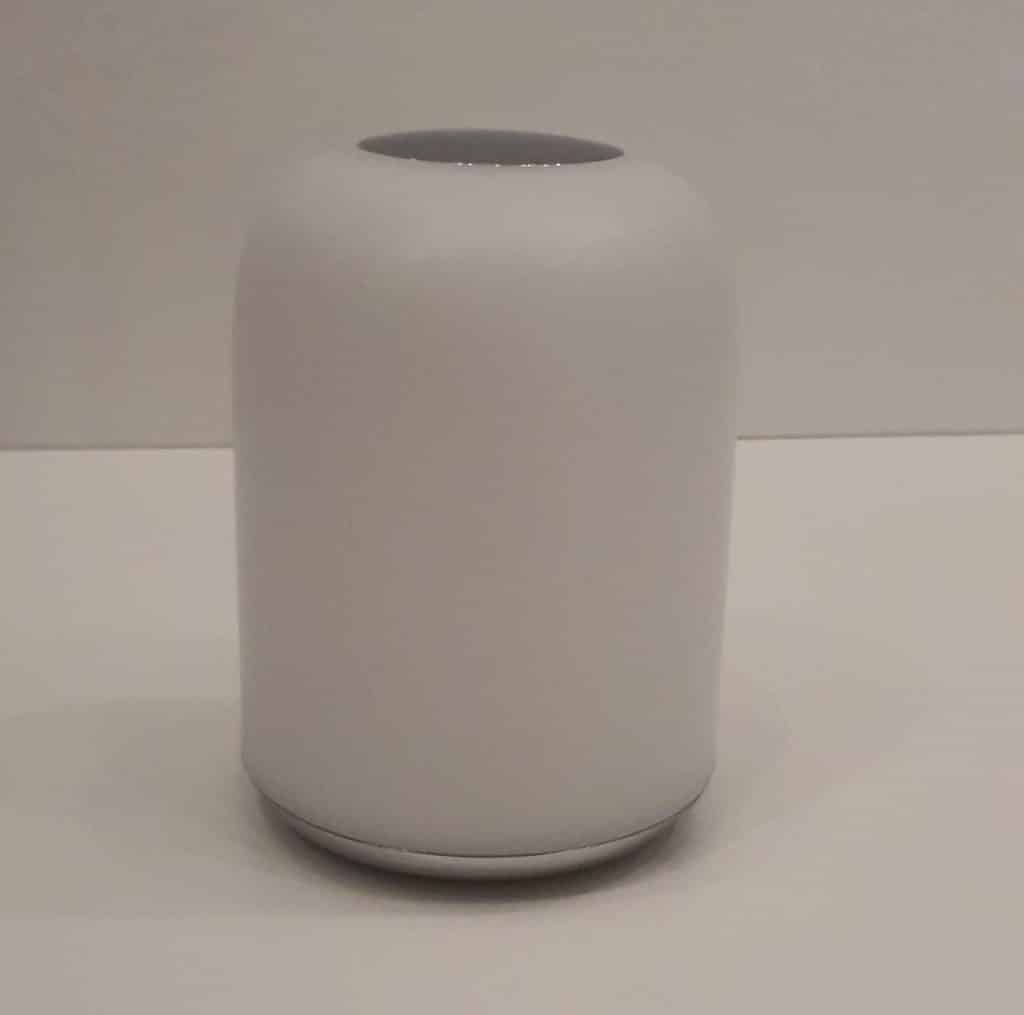 By pressing the touch-sensitive surface, you can regulate the brightness of warm and cold white and determine a color tone in the RBG mode.
LED table lamp: 3 selectable modes
The LED table lamp with battery in use
The bedside lamp is optically simple and fits pretty much into any environment. For me it is usually in the bedroom and is very pleasant due to the adjustable brightness (unfortunately only with the white tones).
Whether reading in Cold white mode or go to sleep as a "bed lamp" - in warm white mode, in conjunction with the 1 hour timer (the sleep timer has to be reactivated every time). The setting options are great.
The uses are versatile. Through the integrated battery you don't need to look for a socket and you are not bound to a specific location except for charging. That's why I liked to take the lamp with me into the bathroom. It is really very reassuring to have the lamp dimmed in the bathroom or bedroom.
It was often used as a small corridor lamp to illuminate the way to the bathroom in the evening hours. I can also imagine that several of these LED lamps at a party in Color change mode make something.
Thanks to the easy operation of the touch surface, children have no problems using this lamp and can have fun with it. In addition, as a side lamp when watching TV, it is an energy-saving alternative to room light.
But lamps in the office, as they are often advertised on the Internet, I cannot imagine the LED lamp. It has good, wide illumination, but in the office you would rather have a bundled light beam.
Advantages & disadvantages of the LED table lamp
Benefits
Various colors and white tones can be selected
White tones can be dimmed
No visible switches
Integrated battery (2600mAh)
Simple design
Very easy
1 hour timer (selectable)
Memory function
Luminous time up to 48 hours
Disadvantages
Color tones cannot be dimmed
Everything at a glance
Here I have summarized the most important data and functions for you:
Technical details: LED table lamp
| | |
| --- | --- |
| Model | LT-T8 |
| Luminous flux | 80lm (max) |
| Color temperature | 3000K / 6500K |
| Color rendering index | > 80Ra |
| Tension | DC 5 volts |
| power consumption | 2,5 watts, |
| charging time | about 3 hours |
| Lighting time | 5 hours (bright light, 48 hours / dimmed light |
| battery capacity | 2600mAh |
| LED types | SMD2835, SMD5050 |
| Number of LEDs | 20 |
| Materials | ABS, PC |
| Dimensions | 120 90 mm x 90x |
| Weight | 533g |
Delivery:
AUKEY table lamp
USB-A to USB-C cable
Manual
warranty card
Status display by means of an LED indicator
| | |
| --- | --- |
| Green | one hour timer is activated |
| Red, flashing quickly | Battery status <20% |
| Red | loads |
| Red off | fully charged |
Features
Switching on / off is implemented using the multifunction button
By tapping twice on the touch surface, the table lamp is put into standby mode or switched on again
The night light mode can be activated from standby by touching the surface for 2 seconds
Briefly pressing the multifunction button activates the sleep timer when the table lamp is switched on
Conclusion: LED table lamp from Aukey
Great lamp at a low price, very functional and really great thanks to the battery. It is very versatile and easy to use. Thanks to the memory function, the settings are saved when the device is put into standby and are immediately available again when the device is switched on. Highly recommended as a bedside lamp for children and on the go! Are you looking for something else, then have a look here LED table lamps.
More LED table lamps from Aukey
Product selection
Updated December 8, 2023 5:20
---
* Product images & links | Source: Amazon PA API | Last update on 10.12.2023/XNUMX/XNUMX | * = Affiliate links | Prices quoted on this website may have changed. The actual price of a product can be found on the seller's website. Real-time updates are technically not possible. Prices including VAT plus shipping costs
---