It's tea time with tea in a glass

Yes, we are testing 3 types of tea from Auresa. The special thing is that you now get the types of tea in a glass. No more rubbish and the glass with cork can be reused for many ideas. 6 testers stood by the tea in the glass. What they tasted and how they judged, you can read here in the following tea test. - Loose tea in a glass from Auresa
Who is auresa?
Auresa is an organic certified online shop for loose tea. Free shipping from 40 € you can choose from many different types of tea Production and manufacturing in Germany order safely. You can have samples of teas sent to you or with no minimum order value just order a glass for example. Many types of tea are available in the usual bags, but the glass has recently been introduced. Tea in a glass is therefore more environmentally friendly, more hygienic and even more beautiful, according to the Auresa advertising slogan - yes, we think it's good! 🙂
Tea in a glass
Auresa stocks different types of tea in a glass, which in turn can be found in different tea categories.
Tea categories: Green tea Fruit Tea Black tea Herbal tea | Rooibos Tea | Oolong Tea | White tea Chai tea
other categories: Summer tea | Organic tea | Iced Tea | Vegan tea and many more like Japanese tea or Christmas tea and more. v. m ..
There are also ready-to-order tea sets to choose from Online-Shop is very large and everyone will find something there.
The tea test
These 3 types of tea were ready for testing and were tested on a leisurely Sunday afternoon 🙂
Organic Gold Lesson Tea in a Glass | Spicy fruit tea
Fruit tea in a glass Loose tea cherry bomb with cherries
Black tea coconut in the glass Tea with coconut
The idea of ​​tea in a glass - design & optics
All testers found the idea of ​​tea in a glass more appealing than tea in bags. A tea in a glass with a cork just looks better in the kitchen than a bag. Therefore, ever rated positively by everyone. Everyone found sustainability to be very good for the environment, and reuse leaves a lot of room for ideas on what to do with the empty glass and cork. Such a tea set is a great gift idea for tea drinkers or those who could become one.
Each glass has a label with a lot of information such as: Decaffeinated | Vegan | Low acid | Children's tea | Hot & cold | Winter tea | For expectant mothers | Sugar free | Lactose free | Organic depending on what you can see on the label.
A short Description of the type of tea how it tastes, works or is suitable. You can see how many cups each make up a glass below. Here, of course, it depends on the preparation and your taste, how much tea you need for a cup. The label on the back shows you all the ingredients that are included in the tea. Below you will find the preparation.
Tea in a glass - Gallery
Preparation of the types of tea
The preparation of every tea is different, but you can read about it on every glass. Here you can read how we made the tea.
Tea per cup: The label says 1-2 teaspoons. Whether you only take 1 or 2 can make a big difference. We agreed on 1 1/2 teaspoons per cup.

Water per cup: 6 testers make 6 cups, but how big? We took 6 old small coffee / tea cups, together this made approx. 800 ml, approx. 130 ml for one cup

Temperature: 100 degrees! With the 3 types of tea, the tea should be infused with bubbling boiling water.

Drag time: The tea should brew for 8-10 minutes. The black tea 3 minutes
Tip: The teas tasted pretty intense and strong, so I would only 1 teaspoon per cup (130ml) recommend!
Preparation for 6 cups with 130ml
- 6 teaspoons of tea
- 800ml of water
Preparation for 1 cup with 250ml
- 2 teaspoons of tea
- 250ml of water
Now we come to the actual tasting and testing of the tea varieties. The tea testers are coffee and tea drinkers, but rather less tea 😉 taste is of course always a matter of opinion, so there will also be real honest opinions about the teas. You can chase what you like with others. 😉
Organic Gold Lesson Tea in a Glass | Spicy fruit tea - in the test
That's what the testers said about the organic gold lesson Tea in a glass:
odor
Dry: The tea smells fruity and spicy
Hot: mild but spicy
Taste
It tastes spicy, but not so fruity. The color of the tea is intense. Wouldn't buy it for me because I personally don't like it.

odor
Dry: It smells fruity and strong tart
Hot: The tea smells very bitter now

Taste
Doesn't taste fruity enough. Too bitter in the finish. Ain't my tea.

odor
Dry: The fruit tea smells fruity and powdery
Hot: It smells intensely pungent, but no longer fruity
Taste
Somehow it does not have a fruit note, rather very spicy and a persistent sharpness in the finish.
odor
Dry: Find the smell nice and fruity
Hot: you can no longer smell fruity
Taste
Everything after the smell test was disappointing and is no longer my case

odor
Dry: Doesn't smell bad, fruity, intense, would be a good room fragrance, bitter
Hot: smells mostly spicy, less fruity

Taste
A very spicy, intense tea tastes good to me. I don't need sugar for this. I like persistent sharpness in the finish.

odor
Dry: smells intensely fruity, aromatic strong
Hot: less fruity
Taste
Tastes bitter, with sugar it becomes fruity
And finally ... Organic Gold Lesson Tea in a Glass | Spicy fruit tea
It is a spicy fruit tea with an intense smell, dry, clearly fruity and could be used as a room fragrance. 😉 After brewing, the testers found that the fruity flavor had evaporated and that the spicy flavor was very dominant in the tea. This tea did not taste good to everyone because the spicy and hot taste was not good for the palate. Unlike those who liked him. A spicy fruit tea sounds interesting and read the list of ingredients interesting. It is precisely because of this sharpness and the tartness that it is an interesting tea that many would drink again. World Cup tip code word: taste
Fruit tea in a glass Cherry bomb with cherries - in the test
- € 3,91
Creano tea flower mix – "ErbloomTea" in a classy gift box...*
OFFER: Tea flower trial set or gift set with 6 different tea roses - white tea Our offer for real tea lovers comes in a...
CHARACTERISTICS: Each Blooming Tea flower can be infused up to 3 times - and thus makes approx. 1,5 l tea for true connoisseurs. The mild white tea...
QUALITY: Creano AbloomTees are a branded product of the very best quality. We attach great importance to the quality of the tea, flowers and...
That's what the testers said about the cherry bomb with cherries Tea in a glass:
odor
Dry: Mega cherry smell with a hint of alcohol
Hot: still a nice cherry smell
Taste
Tastes very sour. A small teaspoon of sugar makes the taste rounder, tastes great.

odor
Dry: Smells intensely of cherry and somehow of marzipan
Hot: nice deep red color, smells strongly of cherry and still marzipan
Taste
Too strong in the taste, maybe too much tea. It tastes very much of cherry, but it tastes better with sugar.

odor
Dry: a very intense cherry smell
Hot: Intense cherry, ok
Taste
Tastes very intensely acidic. Sugar makes it better. Overall quality really great.
odor
Dry: smells very fruity of cherry and marzipan. Sweet too
Hot: sweet and cherry-marzipan
Taste
Tastes very sour cherry and accordingly sour, maybe too intense and reduce the amount of tea, but I can recommend it, tastes good.

odor
Dry: no cherry smell, more berries, sweet-fruity, slightly sour
Hot: smells more of cherry, slightly fruity, less intense now
Taste
Tastes a bit bitter, makes my mouth dry. Sour but no cherry taste. With sugar, more cherry flavor comes back. Something artificial

odor
Dry: very intense after cherry
Hot: still smells very cherry
Taste
Tastes a lot like sour cherry, maybe a little too sour, but a little better with sugar. Maybe adjust the amount of tea. Great taste, I like to drink.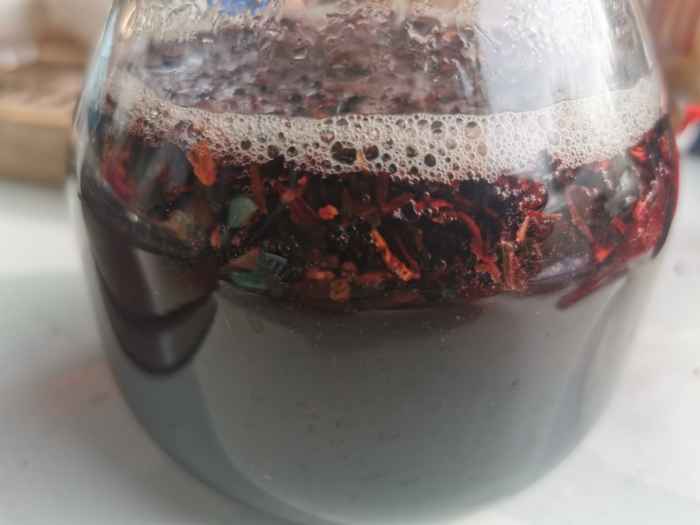 Conclusion: fruit tea in a glass Cherry bomb with cherries
Here the cherry bomb is actually the sour cherry bomb. Too mad for some testers! With sugar it got rounder and better in taste. We had the amount of tea on 1 1/2 teaspoons, maybe 1 teaspoon per cup would have been better with this intensive fruit tea. Most of the testers, the tea was still well received, is what it says on it - sour cherry. 😉
Black tea coconut macaroon in a glass | Tea with coconut - tested
Jean & Len hand soap, Rosemary & Ginger, 250 ml*
The Jean and Len Hand Soap gently cleanses and cares for stressed hands thanks to mild coconut surfactants and is ideal for daily...
In addition to panthenol, the Rosemary & Ginger soap also contains other moisturizing active ingredients that create a fine protective film on...
The tangy smell of rosemary and ginger pampers your senses every time you wash your hands
That's what the testers said about the black tea coconut macaroon Tea in a glass:
odor
Dry: mild smell, can't say what's inside, light vanilla note?
Hot: the same here, can not define anything
Taste
It tastes mild at the beginning, then only after bitter water

odor
Dry: sweet slightly fruity, cinnamon and almonds?
Hot: sweet, stronger almond smell
Taste
It tastes soft, yet slightly bitter. light Christmas note

odor
Dry: smells slightly of coconut
Hot: like dry
Taste
Is a black tea, tastes bitter, but with sugar normal OK
odor
Dry: Marzipan, intense, fruity
Hot: like dry
Taste
Reddish-orange black tea tastes mild at first, then bitter, somewhat vanilla, not my tea

odor
Dry: very pleasant after vanilla
Hot: like dry and sweeter
Taste
Sweet black tea is not my taste, dear normal black tea

odor
Dry: smells like vanilla, coconut doesn't really smell.
Hot: smells OK
Taste
Black tea with vanilla, coconut difficult to taste, better with a little sugar, gladly again.
Conclusion: black tea coconut macaroon in a glass | tea with coconut
Black tea is generally not for everyone. Lady Gray or Earl Gray with sugar or lemon is well known. Coconut macaroon sounded interesting, but as expected the testers too bitter and too little taste. Black tea fans should still try it and judge it. He would not order the test round again.
Finally for the test: As always it means to order and try it yourself, with the tea test you may be able to estimate a little what awaits you with the 3 types of tea. Auresa has great tea combinations in a glass, but try exotic tea varieties even on a small Sunday round. You will taste new things, discuss a lot and just have fun like we had.
For all readers who are now in the Online shop at Auresa want to order!
Only until 30.09.2020 with the code: TEA TEST
10% discount consider one Save on shopping.
other tests: Aukey EP-T21 headphones, Spread of dwarf meadow, Bolero drink powder
Tea in a glass Top 10 from Auresa
Find in the top🔟 the best & best-selling tea in a glass Auresa products 2023 on Honest Tests
Reading tips: coole DIY Projects | Fitness | You like product testing read?
Product selection
Updated December 11, 2023 7:09
---
* Product images & links | Source: Amazon PA API | Last update on 11.12.2023/XNUMX/XNUMX | * = Affiliate links | Prices quoted on this website may have changed. The actual price of a product can be found on the seller's website. Real-time updates are technically not possible. Prices including VAT plus shipping costs
---