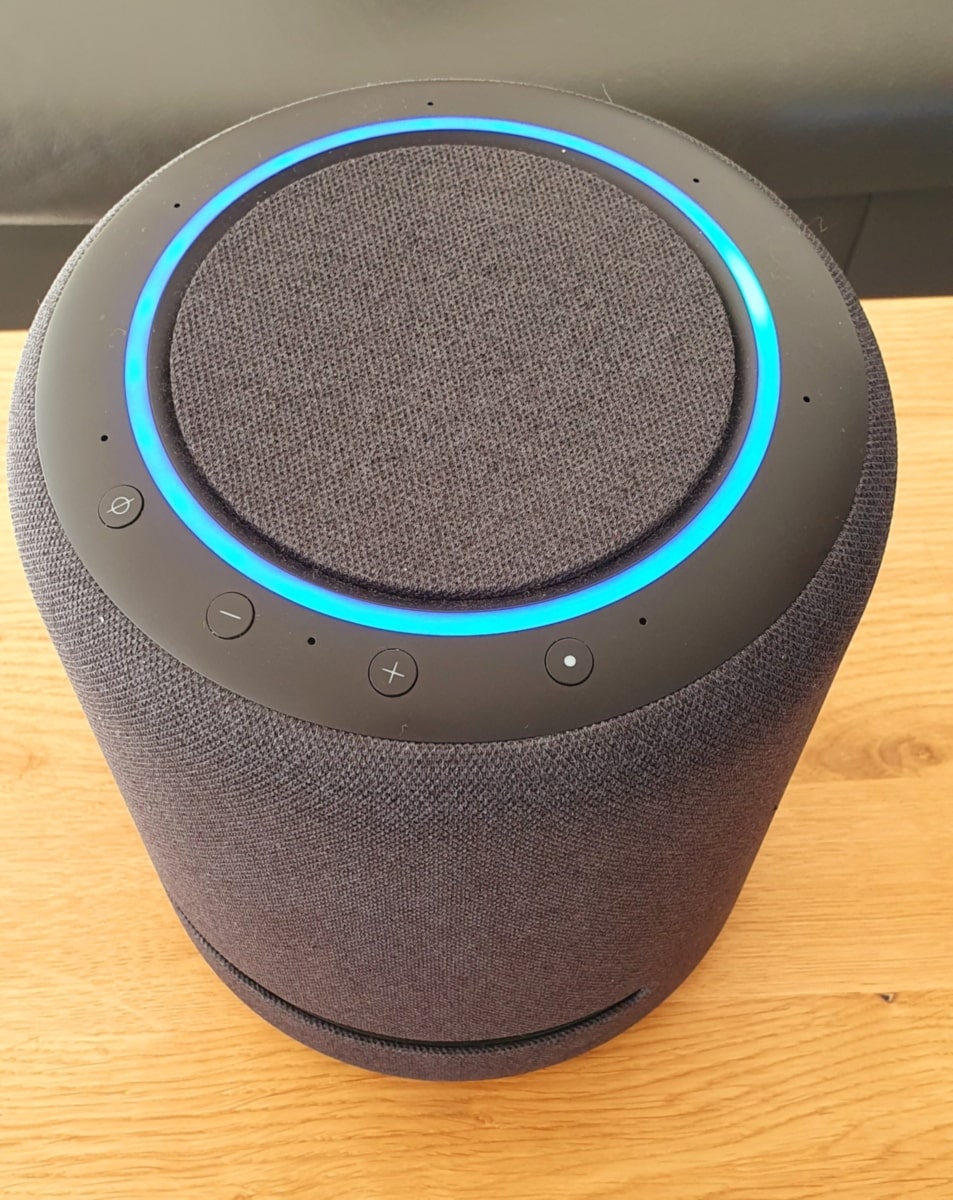 Amazon delivers with the Echo Studio another generation of voice-controlled players. The Echo Studio - smarter high fidelity - ensures with its special 3D sound and 5 integrated speakers for one powerful sound with a well-mixed bass. To do this, the Echo Studio automatically records the acoustics of the room and continuously adjusts the playback to always deliver the best possible sound.
I have tested the Echo Studio - smarter high fidelity, compare it with other Amazon Echo models and now report on my experiences.
For € 199,99, is the Echo Studio really better and more useful than other models?
Echo Amazon in comparison
First impression | Installation - Echo Studio
The first impression is really positive, you hold the Echo Studio in your hand and immediately notice that it is quite robust at 3,5 kg. That likes the overall five built-in speakers including subwoofer. The device is covered with fine fabric and makes a very successful, decorative yet neutral image. In addition to the Echo Studio, only the power cable and the operating instructions are supplied.
The Echo Studio from Amazon has an optical input and a 3,5mm jack for headphones. I was really into that Dolby atmosphere curious; excited. However, the device must first be put into operation.
According to the instructions, Echo Studio should be around 15cm from the wall be placed remotely so that the sound quality appears to be optimal. Then, if not already available, the latest version of "Amazon Alexa" downloaded. You will now be greeted by the device immediately after connecting to the power supply and prompted to enter the WLAN key. These steps worked for me without difficulty and were done quickly.
As a final step, Echo Studio can use the App yet to be set up. There are some setting options available, but I cannot necessarily recommend them.
What Differences to Echo models?
The Echo Studio - smarter high fidelity is the latest and largest variant of the currently available Echo models.
In contrast to other models, the device has 5 integrated loudspeakers, which one optimal sound deliver. In addition, the sound technology is aimed at 3D Dolby Surround for the ultimate in home entertainment 3D experience to obtain.
Another feature is that Studio automatically adapts to the room using sound waves and changes highs and lows accordingly.
I find it particularly worth mentioning that the Echo Studio has an integrated optical input can be connected to the television. Especially when it comes to movies, the speakers are absolutely a competition to the soundbar or similar output devices.
Numerous devices can use the Echo Studio controlled by language become. In addition, Amazon itself offers various gadgets for sale, for example sockets with which lamps, coffee machines etc. can be switched on and off.
The Echo Studio - smarter high fidelity - has the function the intercomwith which other Echo devices in the house can be controlled or even called.
How is the sound quality?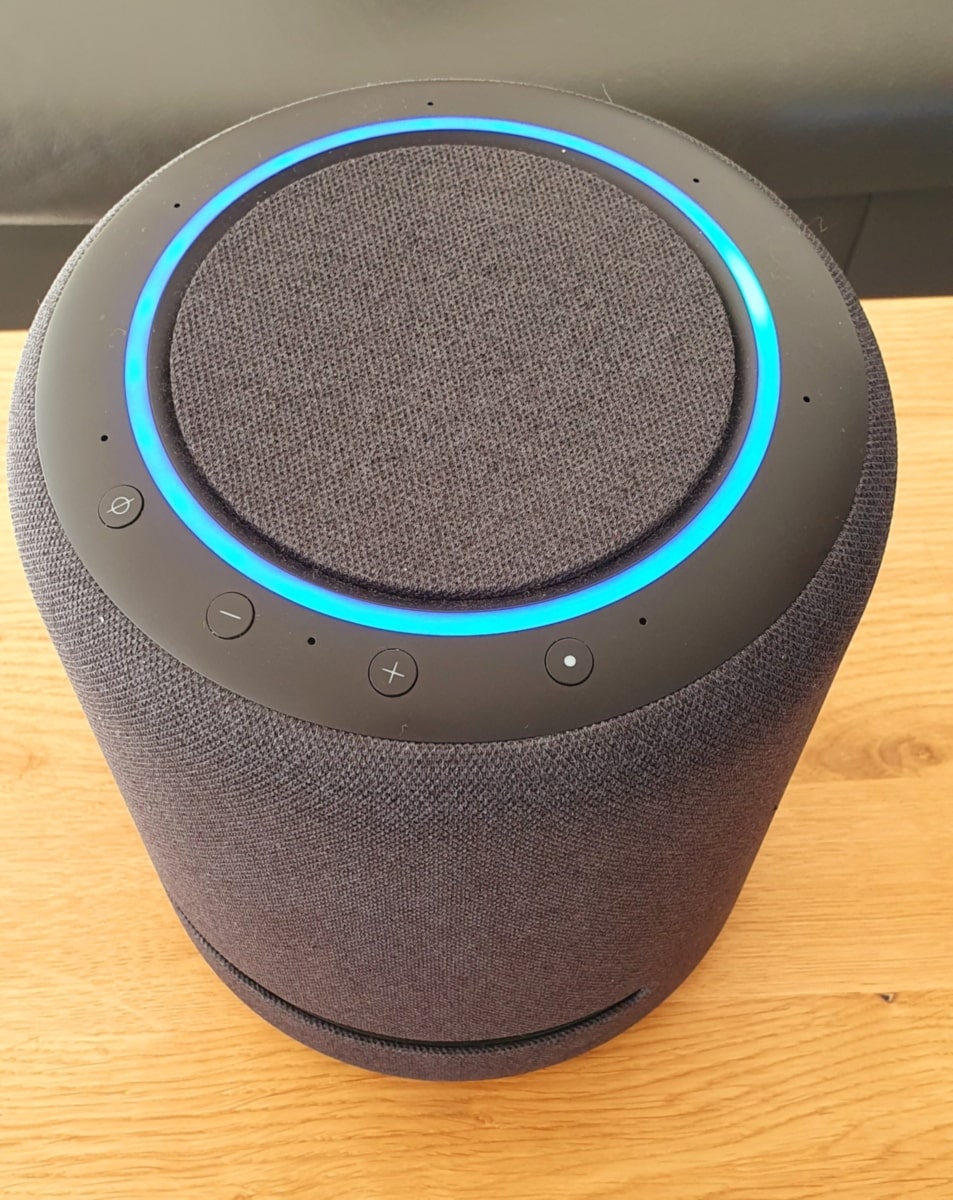 I already have older Amazon Echo models, but I was never completely satisfied because either the voice control did not work optimally or the bass was too much in the foreground. Now I was looking forward to the Echo Studio.
First, I tested the voice control, which worked quite reliably right away. My question was also answered when speaking softly.
As soon as anyway connection issues, due to a weak WLAN connection or a question that is less clearly expressed, difficulties arise, this is caused by red flashing of the LED visually signaled. Alexa also states that she is currently having difficulty playing.
The first test was playing songs to test the quality of the sound. I was really impressed with which one Pressure and power of the sound is played. The bass rounds off the tone very well. I was very enthusiastic about the quality. The volume control is also well done and creates a considerable volume.
Controlling external devices, in my example two lamps, also works immediately after acoustic assignment. All you have to do is assign a name to the sockets from Amazon and then use it to control them. In my case, for example: "Alexa, Flashlight at".
Of course, Amazon does an extra business with second devices, whether you really need it is an open question, but it's always fun.
The Echo Studio can of course also be controlled using available buttons, the volume can be regulated and there is also a "Mute" button available so that Echo Studio no longer hears speech and does not execute commands.
What Advantages and disadvantages?
Benefits
Versatile
Top sound quality
Easy commissioning
Disadvantages
Increased price segment
Data protection questionable
Additional purchases must be made for full use (paid music subscription, sockets, etc.)
Exact, strong pronunciation necessary for the execution of commands
stressful WLAN connection
Worth mentioning and tips to the Echo Studio
Amazon promises one with its Echo Studio absolute data protection. For this purpose, Amazon offers a service to track what the Echo Studio has recorded. In addition, the so-called "Mute" button should prevent the voice from being recorded.
But in the present age I am nevertheless skeptical and I doubt that Amazon complies with 100% data protection.
Occasionally, Echo Studio starts up and gives a voice output without someone asking you to take any action. Don't let yourself be frightened about this.
Everyone should decide for themselves in which context they want to use the Echo Studio from Amazon. Amazon itself would like to sell accessories and subscriptions in addition to the device and offers an enormous number of options. I can only recommend that you really limit yourself to what is important.
For full use of "Alexa", a stable and generous internet connection to be available. If you like to stream, you will quickly notice that otherwise the connection regularly kinks.
Recommended reading: Read about Amazon Portfolio here
Conclusion: EchoStudio
Amazon is always trying to bring new, high-quality, voice-controlled output devices onto the market. They also offer a large number of accessories, which are sometimes even necessary for use (example: music subscription).
Nevertheless, the Echo Studio delivers a really very good sound and can be controlled with numerous electrical devices via appropriate sockets. The price of 199,99 € is justified for the technology, but can still be found in the high price segment.
If you are looking for an alternative to wired devices such as soundbars and surround systems, the Echo Studio smarter high fidelity is the right choice!
Find in the Top🔟 the best & best-selling Echo Products products 2023 on Honest Tests
Reading tips: coole DIY Projects | Fitness | You like product testing read?
---
* Product images & links | Source: Amazon PA API | Last update on 11.12.2023/XNUMX/XNUMX | * = Affiliate links | Prices quoted on this website may have changed. The actual price of a product can be found on the seller's website. Real-time updates are technically not possible. Prices including VAT plus shipping costs
---