Whether for long runs, a bike ride or a long walk. The right backpack is essential for this. If you are on the road for a longer period of time, you should have enough space for food, a mobile phone and possibly an extra jacket.
In the dark season, however, it is often not possible to do sports before sunset. That shouldn't be at the expense of security. Of the Proviz Reflect 360 running backpack manages to be prepared for all of these things and supports you in a safer manner in traffic.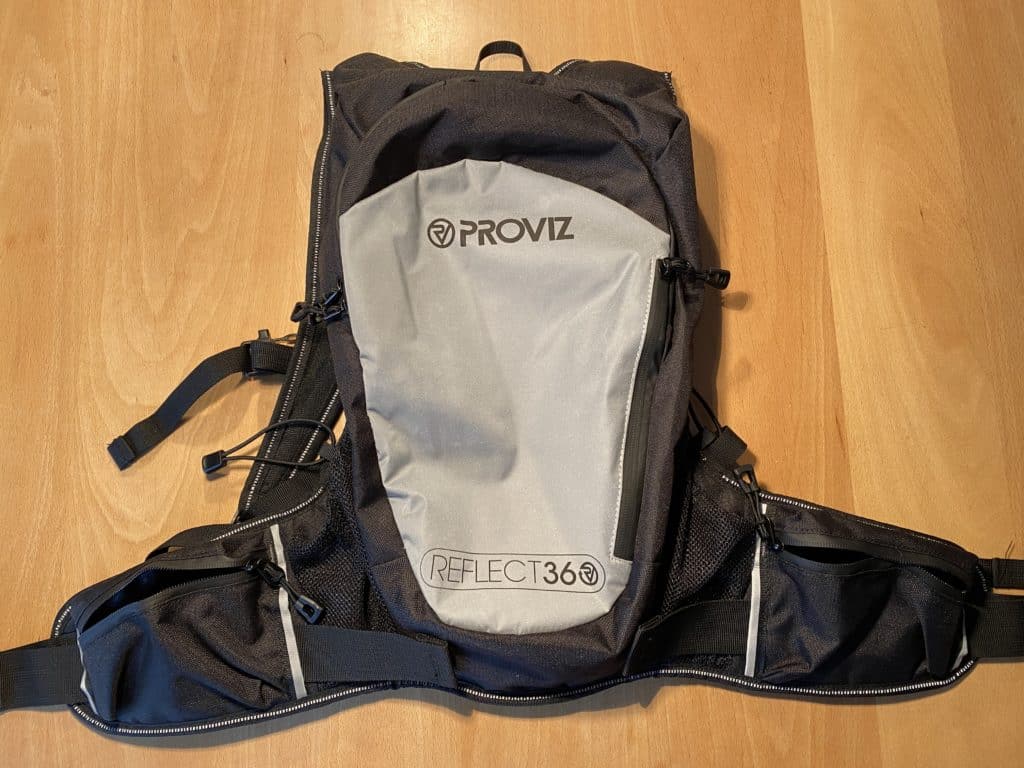 If the running backpack is not available on Amazon: Proviz shop
Product Details: Proviz Reflect 360 running backpack
CE EN471 certified, 100% reflective material
Waterproof, seam sealing for additional impregnation
Adjustable hip, waist and chest straps
10 liter volume
Running backpack with reflective visibility
With the Proviz Reflect 360 running backpack, every runner is a little safer in the dark. Thanks to many reflective elements, you can be seen more quickly by cars or bicycles, because they are blinded and attentive by the reflection of their own light. As the name suggests, the running backpack offers all-round protection. That means you will be recognized quickly from every side.
The Proviz running backpack has the following reflective elements:
- Large reflective surface on back
- 3 reflective strips on each Side of the hip belt
- 3 reflective strips on two shoulder straps
- Consistently incorporated reflection on the seam of the backpack
province uses a material as the material for the reflections that reflects particularly brightly with the help of millions of tiny glass beads. I think it's great that this fabric is simply gray during the day and is not overly noticeable. It only unfolds its full effect in the dark.
Storage system with many pockets on the running backpack
Order - who doesn't love it? When everything has its place and you know where to find it, I feel satisfied. Nothing annoys me anymore when I have to clear out the whole backpack during a short break to get my cell phone or an energy bar. That takes up time and is at the expense of your mood. At the Proviz Reflect 360 running backpack Fortunately, it's a little easier.
The large main compartment contains a smaller area on the back, separated by an elastic band. Only light and soft things should be stowed there, otherwise they will press on the back when carried. The total capacity of the running backpack is 10 liters.
Under the large reflective surface there is also a compartment that can easily be filled with flat items such as a cell phone or a wallet. The advantage is that you can get to things quickly and easily from outside. The last two options for stowing something are on the hip belt. There is a pocket the size of a fist on each side for things that can also be grasped in motion.
I like to stow my key in one of the compartments. Two or three carbohydrates are also useful for long runs or bike rides. Then you don't even have to stop while taking it. These compartments are too small for cell phones.
No real pockets, but the two cup holders are also worth mentioning. As you know it from normal rucksacks, these are sewn on the outside left and right. I noticed negatively that the cup holders are very small. A 0,5 liter bottle sticks out a good bit and threatens to fall off when moving. So even smaller bottles are best suited. I recommend 0,25 and smaller.
The running backpack comes with a 1500mm water column waterproof, which I find very helpful. In light rain you don't have to worry that objects inside could get wet. All zips are also waterproof and keep rain out. The drawbars are large and easy to grip, so that there were no problems opening the backpack with gloves. Especially helpful on cold days.
Comfort and hold of the running backpack?
Unlike the Proviz 360 Reflect bike backpack, the runner version has a wide hip belt. This has the advantage that the Running backpack can be strapped tightly to the waist and so much wobble is avoided. The straps for lashing the hip belts are much too long for rather thin runners, but luckily they can be stowed well under the attached pockets without being in the way.
The shoulder straps are made of a comfortable and light mesh, which in no way affects the stability. Unfortunately, even with thinner runners, there is a lot of tape left over. It swings back and forth while running and cannot really be stowed or attached anywhere.
The height of the chest strap can be adjusted very flexibly and a whistle for emergencies is also built into the click fastener. Fortunately I have never needed it, but I think it makes sense.
When you put it on, you immediately notice the very low weight. Without content you hardly notice that you have something on your back. Even packed with a few clothes to change, the wearing comfort is still very high. Only when loading heavier things such as beverage bottles does the wearing comfort suffer a little. It is particularly important to stow heavy things well, otherwise they will slide back and forth too much while running and may also press into the back.
A ventilation system on the back ensures greater breathability. The ventilation system is very comfortable for the first few kilometers, but it definitely reaches its limits during long runs.
Tip: Are you looking for one? motorcycle backpack?
Who is the running backpack suitable for?
Due to the beautiful possibilities to adapt the running backpack to the size and shape of the user, both men and women can wear it. The hip and shoulder straps can be lashed tight enough even for very small people. If advertised as a running backpack, the running backpack is also suitable for these sports:
- To stroll
- Hike
- mountain bike
- racing bike
Conclusion: purchase the Proviz Reflect 360 running backpack
For currently 60 Euros the running backpack is available to buy. I think that this price is quite reasonable and that you get a lot for your money. With 10 liters, the Proviz Reflect 360 running backpack is one of the smaller models.
But if you only want to stow a thin rain jacket, cell phone, wallet and some food, the Proviz 360 ° Reflect is the best choice. Unfortunately, a hydration bladder is missing here, but at least small bottles can be transported with the cup holders.
I think the 360 ​​degree reflection is implemented very well and I haven't seen it anywhere else. If this feature is not so important to you, you can also use any other running backpack, otherwise the other features do not stand out from the crowd.
other running backpack products


---
* Product images & links | Source: Amazon PA API | Last update on 2.04.2023/XNUMX/XNUMX | * = Affiliate links | Prices quoted on this website may have changed. The actual price of a product can be found on the seller's website. Real-time updates are technically not possible. Prices including VAT plus shipping costs
---