With its TP-Link TL-WA860RE WLAN Repeater, TP-Link would like to achieve a particularly high level of stability and super-fast WLAN speed. The repeater, which is so highly advertised by Amazon itself, has an integrated socket and should enable constant WLAN reception throughout the house, without dead spots. With the two integrated antennas, the signal should arrive even in hard-to-reach areas. The TP Link Repeater should also improve reception for smartphones, notebooks and other devices.
How stable is the connection really?
I have the TP-Link TL-WA860RE WLAN Repeater tested.
Installation - TP-Link TL-WA860RE WLAN Repeater
The repeater works on the first impression through its two integrated and swiveling antennas actually professional and promising. The device with the dimensions 6,6 x 10,9 x 7,6 cm is particularly light with a weight of only 200 grams.
The installation is done in the following way:
The device is plugged into any socket. Since the repeater itself has a Steckdose it does not take up a slot on the wall. You then wait until the LED flashes green.
Now press the WPS button on router and immediately afterwards the corresponding button on the TP Link Repeater. The connection symbol on Repeater now flashes permanently in green, which means that a connection is being established. As soon as a successful connection has been established, the LED lights up green continuously. Errors that have arisen, for example an installation too close to the router itself, are indicated with a glowing orange color and an installation that is too far away with a flashing orange.
The device is then ready for use.
Fortunately, in my case, the connection has works right away. Alternatively, TP Link also offers one Configuration using the web assistant
Now I hope that the connection is really stable and that the WiFi actually extends into all areas.
Use | Quality of connection
After everything was configured and the LED to display the connection permanently
lights up, I have now tried to log in via the smartphone. The WLAN network is called via the repeater as well as via the router itself. The WLAN key can also be used by the router; a new one does not have to be generated. Out
for this reason, a connection was made very quickly.
That very energy saving device with only 3 watts really has the advantage that it has a integrated socket therefore there is no slot on the wall
taken away, which may then be missing for other devices.
side note: The TP-Link TL-WA860RE WLAN Repeater also has one fixed LAN portif devices are to be connected directly or if you want to do without the WLAN connection.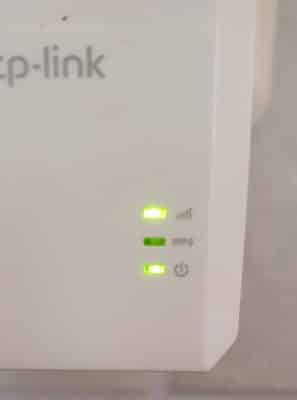 I have aligned the antennas in the living room so that I can use the smartphone from anywhere best reception had, everyone has to test and try something. Alignment actually makes a huge difference.
In my test, the repeater works very well, I had one clearly noticeable stronger WiFi connection. My router is in the hallway and the connection often did not come through the wall, so the connection was often disconnected.
This problem has lessened since then. The breaks can still be seen, but clearly lower frequency. If TP Link improves this weakness, the device is absolutely free of complaints.
I judge that WLAN repeater from TP Link hence as real reinforcement of the WLAN network. The quality convinced me at least in the beginning, I also think the price is absolutely okay.
Video | TP-Link TL-WA860RE WLAN repeater
Which Advantages and disadvantages TP-Link TL-WA860RE WLAN Repeater
Benefits
Easy configuration
Swiveling antennas
Integrated socket
Minimal power consumption
Disadvantages
Summary: TP-Link TL-WA860RE WLAN Repeater
If you want to expand or improve your WLAN connection, or are looking for a repeater, you will be satisfied with this TL-WA860RE model. Of the Price is really very good and fits the complete impression. It is possible that the initial configuration does not work right away; the Web Assistant should then be used for this.
It is important that you get the Antennas aligned differently and see where and in which position the reception is strongest.
Overall, the repeater from TP Link is absolutely recommendable. In particular, this device solves the onerous problem of poor and inconsistent connection.
Buy popular WiFi repeaters | Buy cheap WiFi repeaters online
Buy Wlan Repeater - Top 10 Topseller List
- € 21,11
Check these top 1
- € 5,41
Check these top 2
- € 12,01
Check these top 3
- € 13,01
Check these top 4
#
Preview
Product
rating
Price
1
AVM FRITZ! WLAN Repeater 310 (300 Mbit / s, WPS), white, ... *

20.518 Reviews

€ 49,00

€ 27,89

To the offer ➤
2
TP-Link TL-WA850RE WLAN amplifier repeater (300 Mbit / s, ... *

€ 24,90

€ 19,49

To the offer ➤
3
AVM FRITZ! WLAN Mesh Repeater 600 (WLAN N up to 600 Mbit / s ... *

€ 49,00

€ 36,99

To the offer ➤
4
WLAN repeater, WLAN amplifier 300Mbit / s 2,4GHz WiFi ... *

121 Reviews

€ 22,69

To the offer ➤
Reading tips: than Advice read | kitchen Tips | You like product testing read?
We're sorry that this post wasn't that helpful to you!
Let's improve this post!
What would you wish for this post?
---
* Product images & links | Source: Amazon PA API | Last update on 28.05.2021/XNUMX/XNUMX | * = Affiliate links | Prices quoted on this website may have changed. The actual price of a product can be found on the seller's website. Real-time updates are technically not possible. Prices including VAT plus shipping costs
---