The next round of predictions for the 1st Bundesliga 22/23 starts on 20.01.23/XNUMX/XNUMX
Click here for the betting game >>>> https://ehrliche-testsde.halbzeit.app/
Football Prediction Game – The Soccer World Cup 2022 in Qatar is finished – congratulations Argentina! For all football fans of grass sports, we launched the World Cup 2022 betting game with the Halbzeit.app. With the Halbzeit.app you can am PC or smartphone easily give your tips and to tip king aufsteigen
Since football is always about fun and excitement, we've pinned some prizes for the top tipsters. This should be a small incentive to join in to fight to the end.
That was our football World Cup betting round 2022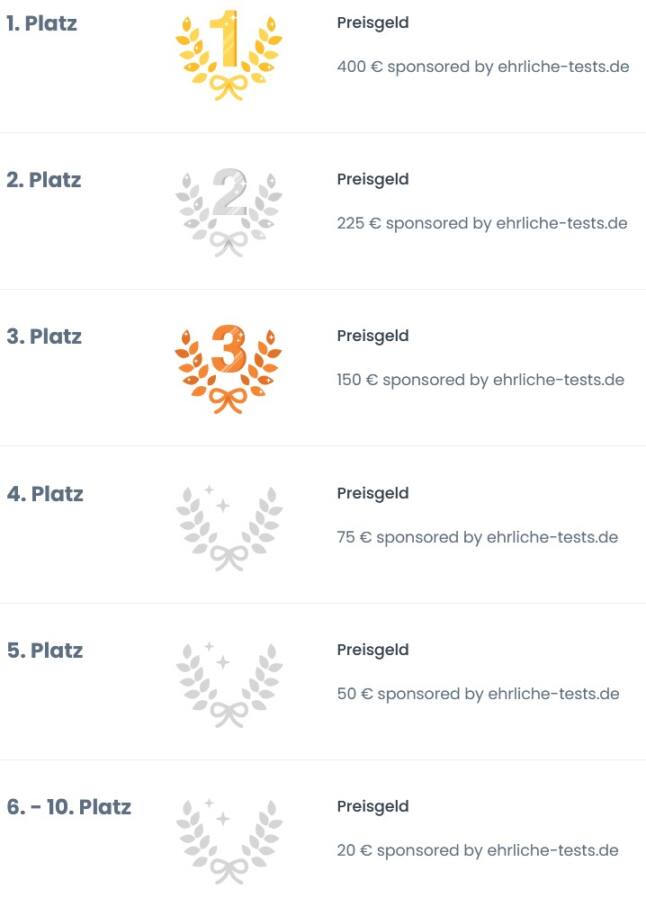 Many thanks to all participants of the World Cup betting round 🙂
The next round of predictions for the 1st Bundesliga 22/23 starts on 20.01.23/XNUMX/XNUMX
Would you like to become a sponsor for our next betting round from January 20.01.2023th, XNUMX? Simply contact us by email!
Click here for the betting game >>>> https://ehrliche-testsde.halbzeit.app/
Game Rules: We want to keep it simple!
1. The exact betting result | 2. correct tip win | 3. The goal difference
If you got an exact bet correctly, you should also get high points, here it's a whole 4 points (changed). At the end of the tournament you can still get a few points until the end. A correct win tip is worth 2 points. In addition, if the goal difference is correct, you get 1 point, i.e. 3 in total.
Bonus Questions: You can earn additional points by answering bonus questions. Code words are searched for on this website and must be entered. The traffic for this website supports this betting game + prizes. But this betting game is completely free!
Click here for the football betting game >>>> https://honest-testsde.halbzeit.app/
We wish you a lot of fun taking part and a high participation in sharing and spreading the word.
You are welcome to give your feedback here! Thanks
Soccer World Cup betting game 2022
Product selection
Updated December 9, 2023 19:20
TIPP-KICK Half-time clock with goal display and sound function I Your own scoreboard for current scores and playing time I Original game accessories I Grey
as of December 9, 2023 19:20
TIPP-KICK Star-Keeper I Original goalkeeper for young and old from 5 years old I Fun with the football figure game I Accessories I Yellow jersey
as of December 9, 2023 19:20
TIPP-KICK Cup 108x71 cm with band - The ready-to-play set with 2X players, 2X goalkeepers, 2X net goals, 2X balls I playing field made of felt
as of December 9, 2023 19:20
TIPP-KICK goal wall game - The ready-to-play set of players in the Germany dress goal wall I game for in between, fits on any table
as of December 9, 2023 19:20
TIPP-KICK Junior Cup with gang 82x56 cm - Ready-to-play set with 2X players, 2X goalkeepers, 2X plastic gates, 2X ball I playing field made of felt
as of December 9, 2023 19:20
TIPP-KICK Retro 80x47 cm - The ready-to-play set with 2x players, 2x goalkeeper, 2x metal goal, 2x ball I playing field made of felt
as of December 9, 2023 19:20