Advent calendar with spices
Today I am introducing you to the advent calendar with 24 different spice mixtures from Magic of Spices. If you are looking for an advent calendar or want to give it away, you should hurry up. December 1st will be soon. An advent calendar with spices is a great idea. Because many people love to cook and spices are always part of it. Great for giving away and cooking. - Advent calendar with spices
Magic of spices - advent calendar
The advent calendar with 24 different spice mixtures comes in a square format (27 cm x 26 cm x 16 cm). There are 24 packets with a number and a porthole, each of which contains a fine spice. There is sure to be something for everyone. The advent calendar with spices is a unique gift.
You can use the spices at any time in everyday life. For amateur cooks or kitchen professionals, there are spices from hot to exotic. The chic angular design of the spice advent calendar is in box format, looks elegant and chic.
Spices Advent Calendar contains:
If you want to surprise yourself, you shouldn't read on now -
Asian wok spice, organic ceylon cinnamon, organic turmeric, flower mix, flower salt, baked apple spice, curry fruity-mild, roasted almonds spice, gin botanicals, gomasio, guacamole spice, chicken spice, kala namak salt, maldon sea salt, olive spice, orange pepper, Patatas Bravas spice, salad herbs, shakshuka spice mixture, tajine spice mixture, tonka beans, christmas pepper, winter spice spice, lemon rosemary salt.
Unpacked and watched
The advent calendar with 24 spice mixtures has a simple white packaging. If you want to give away and send the advent calendar to friends, they will not see what it should be right away. The bow is done quickly and when you open the lid you can smell a hint of spices - delicious -. A brochure is attached to the box, where you can find recipes and information about the respective spice.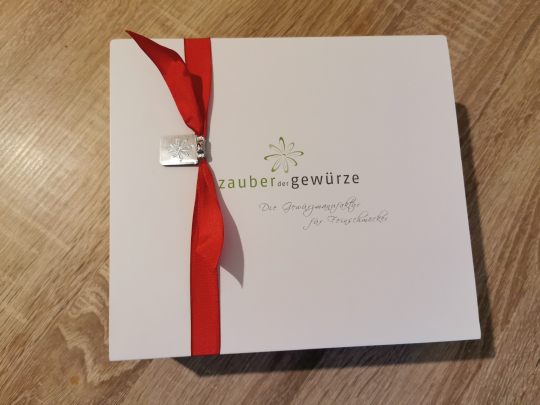 **Tip: You can stack all the cans nicely on top of each other. You can reuse the box with the small packets and the numbers on them for your own ideas or give them away. Small slips of paper with sayings, sweets or jewelery can be easily stowed in it.** World Cup betting game code word: spices
Conclusion - advent calendar with spices
It's a great gift idea. A large sample pack with 24 spices - as an advent calendar. You can never have enough spices! The provider - Magic of Spices - offers many other spices individually.
Magic of spices - individually
Other spice calendar providers
Product selection
Updated December 11, 2023 20:48
---
* Product images & links | Source: Amazon PA API | Last update on 11.12.2023/XNUMX/XNUMX | * = Affiliate links | Prices quoted on this website may have changed. The actual price of a product can be found on the seller's website. Real-time updates are technically not possible. Prices including VAT plus shipping costs
---