Sandwiches for supper are now and then a change or a good alternative to take with you on bike tours, school or work. But which sandwich maker should you buy? My choice fell on the Syntrox sandwich maker SM-2000W XXL with ceramic coating. You can read why and what I think of him here, have fun.
What should the sandwich maker be able to do?
It was important to me that the sandwich toaster can use large slices of toast and I don't want to use small slices of toast. It should also be able to heat up quickly. Easy to use and clean. Stability and robustness were also important to me. Non-stick coating rather less, because I want to use baking paper for easier cleaning. Nevertheless, non-stick coating is always a good choice. He should not necessarily have a possibility for removable disks, since there are already other devices in the household. I wanted to have these typical sandwich corners. After some research on the internet, I chose the Syntrox Sandwichmaker XXL with a ceramic coating for 4 sandwiches.
Details on the Syntrox SM-2000W XXL sandwich maker
The device is easy to use and clean. Equipped with an operating indicator light or readiness indicator - no on/off switch. The color of the sandwich maker is stainless steel and black. The performance is specified with 2000 watts max. Power. The dimensions are 31 x 28 x 14 cm. The upper part can be opened in the vertical position and in the 100° position. A heat-insulated handle with 3-stage locking is available. 2 large white and firmly screwed non-stick coated sandwich plates are responsible for baking the sandwiches. The Syntrox SM-2000W XXL sandwich maker stands on 4 non-slip rubber feet.
Notes on the Syntrox sandwich maker
You can use the big sandwich toast slices!
no possibility to change the baking plates
On/off switch not available (heating takes place directly at the plug connection)
Make 4 sandwiches at the same time
Is very stable and valuable in use
Syntrox SM-2000W XXL sandwich maker tested and tried
After unpacking and setting up, the baking plates were cleaned properly, regardless of whether I used baking paper or not. The sandwich maker doesn't have an on/off switch, but that doesn't really bother me. You put the plug in the socket and the device starts up immediately, which you can see from the indicator lights. If you want, you can operate the Syntrox SM-2000W XXL sandwich maker on a multiple socket with a switch, so you can switch the power supply more easily.
To avoid any mess when baking the sandwiches, I put parchment paper on the lower baking plates and build my sandwiches on them. After the last sandwich, the top is also covered with baking paper and the sandwich maker is closed. Whether cheese, water, sauces or anything else escapes, the baking paper prevents cumbersome cleaning later, even if the baking plates have a non-stick coating.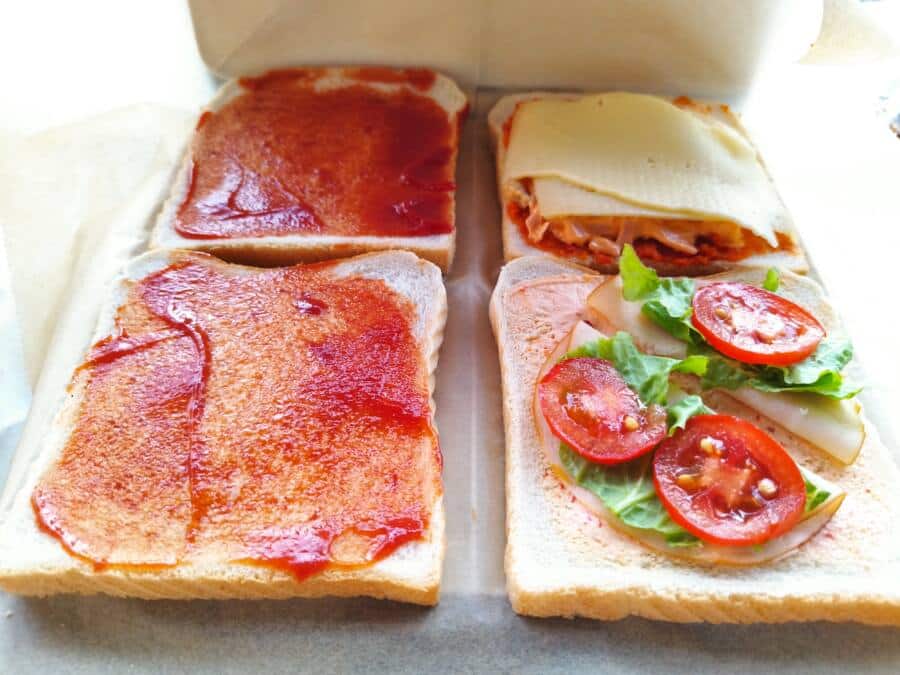 The baking time can always vary, depending on the moisture of the topping and toast, until golden brown. It may take a little longer because of the parchment paper, but that means less cleaning work later. In my opinion, the baking plates get hot very quickly. The sandwich maker heats up and switches off again automatically after a while until it starts up again and continues to heat up, this is indicated by a green control lamp. The whole thing goes on until I see if the sandwiches look good and I take them out. A kind of timer would be convenient, but nothing can actually burn due to the overheating protection or you have to bake the sandwiches in the Syntrox SM-2000W XXL sandwich maker for a very, very long time.
The result was and is completely okay for me. Of course, the longer you bake, the crispier and browner the sandwiches will be. It helps just to check from time to time and to remember a few time standards.
Conclusion: Syntrox sandwich maker with ceramic coating for 4 sandwiches
The sandwich maker does what it is supposed to and delivers a good result. A simple, stable and simple device to quickly make 4 sandwiches or 8 sandwich corners. You won't find any temperature or time displays here, but you don't really need or miss them either. The price is a bit higher than other sandwich makers, but also Made in Germany and a 4-fold sandwich maker.
Important: Despite my judgment on the device, I contacted the seller! Why? The device is specified with 2000 watts, which is a lot compared to other devices. After measuring the consumption, I only ever came up with 1150 watts. I noticed a slight difference in the degree of browning of the upper and lower baking plates. A defect, normal or incorrect information? I am waiting for an answer!
---
* Product images & links | Source: Amazon PA API | Last update on 22.03.2023/XNUMX/XNUMX | * = Affiliate links | Prices quoted on this website may have changed. The actual price of a product can be found on the seller's website. Real-time updates are technically not possible. Prices including VAT plus shipping costs
---