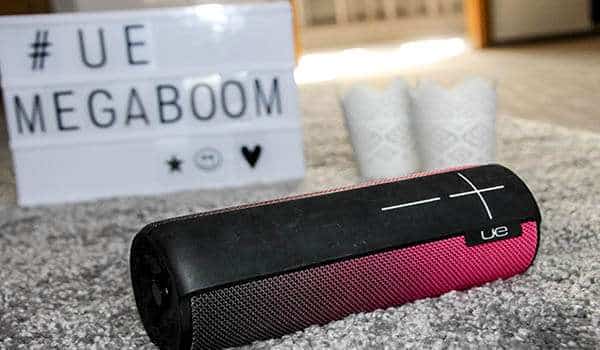 What should you look for in a Bluetooth speaker?
sound quality
Compatibility (IOS, Android)
Easy setup (manageability)
Battery life
Stability (shockproof, waterproof etc.)
Size (depending on whether it should be used for home or on the road)
Depending on what you plan to do with your future Bluetooth speaker, think about which box you will get. The brand plays a very big role, and here are the tastes apart, as there are also countless brands that offer such boxes: Libratone, Ultimate Ears, JBL, Beats, etc. I have some time ago the MEGABOOM Ultimate Ears, short UE, gained, about which I would like to report you here.
What is a Bluetooth speaker?
A Bluetooth speaker is a music box that wirelessly plays all of your favorite songs by connecting them to your phone. Whether on the go or at home - a Bluetooth speaker can be used anytime, anywhere. It is ideal for parties, cycling, sports or just relaxing at home. UE MEGABOOM - your music on the go!
General information about MEGABOOM
The Ultimate Ears MEGABOOM is one of the newer music boxes of the company. Like the previous models, the 360 ° speaker is shock and water resistant. At the same time, she is the greatest. It has a powerful, rich sound and a battery life of 15 hours.
Further technical data: UE Megaboom
Maximum sound pressure level: 90 dBA
Frequency range: 65 Hz - 20 kHz
Speakers: 2 inch speakers & two passive 2 by 4 inch radiators
About micro-USB rechargeable lithium-ion battery
Diameter: 8,3 cm
Height: 22,6 cm
Weight: 877 g
What makes the Ultimate Ears MEGABOOM so unique?
UE MEGABOOM - Your music on the go! Loudspeaker is a great loudspeaker with a great sound, but what I find much more important is that the box is down to a depth of 1 meter waterproof for 30 minutes is (IPX7 certified). Accordingly, the MEGABOOM is ideal for parties on the beach, by the pool and in any other location. For even louder parties, you can even connect 2 MEGABOOMs to each other at the same time with the "Double Up Lock" function. And there is a party mode in which you and 2 other friends can connect to the box and control the music. The playback range is up to 30 meters.
The box has one speakerphone, in which the playback is stopped for incoming calls and you can accept the call with your smartphone or even with the MEGABOOM. The MEGABOOM can, of course, too as an alarm clock used so that you can wake up every morning to your favorite music.
One of the best features of the bluetooth speaker is that unbeatable long battery life of 20 hours !! Of course, this can vary depending on usage, settings and environmental conditions. To be able to use the music box, you definitely need a smartphone, tablet or devices that support the wireless Bluetooth audio profile or devices with a 3,5mm audio output.
The wireless speaker only has 4 simple buttonsthat explain themselves: an ON / OFF button, a "volume up" and a "quieter" button and a button for the Bluetooth connection. The UE MEGABOOM can also be used very easily with the appropriate "MEGABOOM" app, which you can download for free in the app store or the play store. it is also easy to understand and makes it very easy and convenient to use.
The MEGABOOMs are available in a wide variety of colors. Mine is Pink with a course in the black. They are also available in: Black, Nirvana White, After Hours (Black with a Red and Blue Pattern), Black Panther (Black and Gray with Yellow Accents), Blue, Cityscape (White and Black Pattern), Marina (Black with Blue Tones) , Obsidian (Black-Gray), Purple, Red, Red / Blue / White, Black-Purple (Pattern), Urban Zebra and Purple. With the many colors, there is sure to be something for everyone!
Which accessories are available?
Included in the jukebox is a micro USB cable and a power adapter to charge the speaker. The device has a built-in waterproof cover that protects the input jack and the micro-USB port from dirt and water. In addition, there is a so-called D-ring, which is also already and he box. It is removable and allows standard inserts for the tripod mount.
The Best Features of UE MEGABOOM:
Very long battery life
Great sound, even outside
Great fancy colors available
Water resistant
shockproof
Party Mode
Easy to use (4 buttons only)
What is to complain about the bluetooth box?
Actually there is nothing to complain about at the box. I am completely satisfied and she has given me many happy hours with my favorite music. The size can be argued, I deliberately chose the MEGABOOM, because I wanted to have a good sound. However, if the box is too big, you can find out about the UE BOOM or UE BOOM 2, which have a similarly good sound, but are much smaller and more manageable.
What is my conclusion on the UE MEGABOOM?
I can recommend the MEGABOOM with a clear conscience. You can really take them anywhere. Whether at the lake or on a bike ride, you always have a great sound and an extremely long running time, if you are out and about the whole day. Due to the easy handling it is also suitable for teenagers or older children, but of course also for the older generation. The ease of use makes it really easy to listen to music. As I mentioned above, the UE MEGABOOM is relatively large, so it does not fit in a small women's handbag. Either you decide for another UE box, because they all have a very good sound or for a larger handbag.
In summary, I can say that the price is definitely worth it. You will have something from the box for a few years (2 year guarantee) and be able to enjoy it. It is also a great gift for friends or family. UE MEGABOOM - Your music on the go!
If you want a cheaper box, you can get the Storm box look at!
- € 58,00
1. Top seller
Ultimate Ears Bluetooth Speaker, Black, Megaboom 3*
Sound fidelity at any volume: The mobile speaker ensures really loud, clear and room-filling 360° sound with rich, powerful ...
Completely waterproof and can even swim: the ip67 protection class rt means that the speaker is completely waterproof and dustproof and up to...
Can be charged wirelessly with the (separately available) POWER UP charging station, so that you always have a full charge of energy on the way to the next...
2. Top seller
Ultimate Ears MEGABOOM splashproof, portable...*
Sound fidelity at any volume: The mobile speaker ensures really loud, clear and room-filling 360° sound with rich, powerful ...
With just one step to the music: The brand new MEGABOOM 3 Magic button allows you to play, pause and skip songs directly on ...
Style meets performance: the two-tone design of the Bluetooth speaker looks great and is also durable
3. Top seller
Ultimate Ears MEGABOOM splashproof, portable...*
Sound fidelity at any volume: The mobile speaker ensures really loud, clear and room-filling 360° sound with rich, powerful ...
With just one step to the music: The brand new MEGABOOM 3 Magic button allows you to play, pause and skip songs directly on ...
Style meets performance: the two-tone design of the Bluetooth speaker looks great and is also durable
4. Top seller
Ultimate Ears MEGABOOM splashproof, portable...*
Sound fidelity at any volume: The mobile speaker ensures really loud, clear and room-filling 360° sound with rich, powerful ...
With just one step to the music: The brand new MEGABOOM 3 Magic button allows you to play, pause and skip songs directly on ...
Style meets performance: the two-tone design of the Bluetooth speaker looks great and is also durable
5. Top seller
Ultimate Ears Megaboom Portable Bluetooth Speaker, Rich...*
Sound fidelity at any volume: The mobile speaker ensures really loud, clear and room-filling 360° sound with rich, powerful ...
With just one step to the music: The brand new MEGABOOM 3 Magic button allows you to play, pause and skip songs directly on ...
Style meets performance: the two-tone design of the Bluetooth speaker looks great and is also durable
6. Top seller
Ultimate Ears MEGABOOM splashproof, portable...*
Sound fidelity at any volume: The mobile speaker ensures really loud, clear and room-filling 360° sound with rich, powerful ...
With just one step to the music: The brand new MEGABOOM 3 Magic button allows you to play, pause and skip songs directly on ...
Style meets performance: the two-tone design of the Bluetooth speaker looks great and is also durable
other from UE
Product selection
Updated December 10, 2023 6:57
---
* Product images & links | Source: Amazon PA API | Last update on 10.12.2023/XNUMX/XNUMX | * = Affiliate links | Prices quoted on this website may have changed. The actual price of a product can be found on the seller's website. Real-time updates are technically not possible. Prices including VAT plus shipping costs
---