Sportstech RSX500 rowing machine – I myself was looking for a high-quality one rowing machine, which on the one hand helps me to develop my back muscles and on the other hand is easy to use and ideally takes up little space. If it ultimately even relieves pain, that would be ideal!
But initially I had a lot of questions that kept me busy:
Is a rowing machine effectively?
What age group is it suitable for?
Do I have less pain through training?
How long do I have to row on how many days?
Rowing machines in comparison
Read my test report here and get answers to the really important questions.
Sportstech RSX500 Rowing Machine: First Impressions | construction
The Sportstech RSX500 rowing machine is supplied in several individual parts for self-assembly. The whole package has an enormous weight of about 35 kg. But I connect the scissor weight with good performance.
So this has to be done first Sportstech RSX500 rowing machine be set up, I recommend the operating instructions for this. the In my case, assembly took about 75 minutes. However, I have to say that I wanted to do the assembly very conscientiously so that everything was in place afterwards.
The first impression is therefore very positive. The Sportstech rowing machine has a flexible sliding seat, the fitting with its display and the handle. At first glance, I immediately recognize that the rowing machine is over 16 different adjustable functions available, individually for every need. But more on that in a moment.
A big plus is that the Sportstech RSX500 rowing machine foldable is. For this purpose, the entire seat including the guide rail can be folded up. Thus, the rowing machine takes up very little space when not in use.
Video – construction
Preparation and operation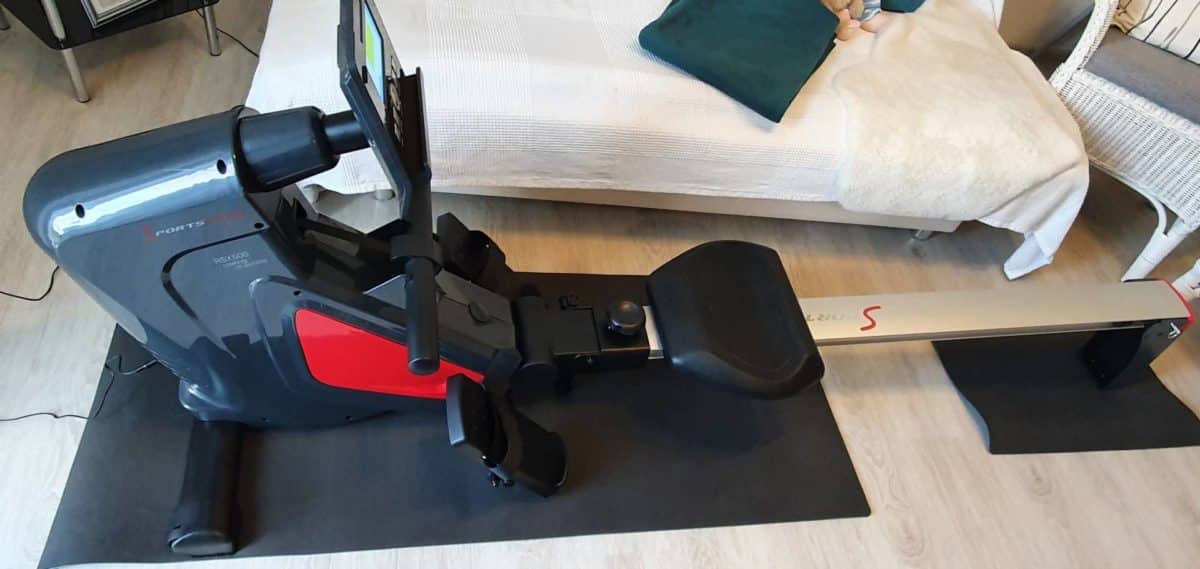 Before you start direct training with the rowing machine, a few small steps should be taken first.
First of all, please make sure that all screws are really tightened, as the rowing machine quickly begins to wobble and you get an unstable seat, especially at higher intensity.
Furthermore, you should first practice without weight in order to learn the correct movement. The exercises must always be carried out correctly in order to make the best possible use of the back muscles and to avoid or optimally alleviate any back pain. Posture is equally important and should really be considered.
As further preparation, the easiest intensity should be selected before the first start in order to get used to the device and the processes. Especially for people who have little experience in this area, you should always start with low intensity and a maximum of 10 minutes.
The operation seems a bit complicated at first, but once you get the hang of it, the handling is quite simple.
Features of the Sportstech RSX500 rowing machine
The intensity of the rowing machine is created by magnetic resistance. Unlike devices with water resistance, which can be found in a considerably higher price segment, magnetic resistance is an absolutely great and, above all, cheaper alternative.
The Sportstech RSX500 rowing machine has some very useful features. I have listed the most important ones here:
· 12 training programs + 4 heart rate programs with different intensities
· 500m competition mode
· Heart rate training with pulse belt
· Anti-slip pedals with adjustable webbing
· Tablet holder for videos + USB charging port
· Comfort seat – ball bearings on aluminum rail
· Compatible with a fitness app
First Application | assessment intensity
Since I already have experience, I initially limited the intensity to the medium level at 20 minutes. The levels can be selected using the display.
In my first test, the movement already felt good, I could do it Practice rowing evenly and cleanly. However, the intensity at medium level was well selected at first, as I could already notice the first fatigue in the back muscles after 10 minutes. Beginners should therefore definitely start low.
I felt that from the movement Rowing as very enjoyable, since the movements could be carried out cleanly and without interruptions. The exercise goes straight into the Back and also strengthens the Poor. I had constant strain in the entire back area, so I can judge that the Sportstech RSX500 rowing machine definitely serves its purpose.
The rowing machine also offers those who have practiced after a while and gotten used to the strain interval training, in which the intensity varies differently during training and the resemble real conditions in the water should.
Overall, I highly recommend this device!
So who is the rowing machine suitable for? Which muscles are used?
The rowing machine is in principle for everyone suitable for those who want to keep fit. The result of rowing is that the back is trained and Pain may be alleviated in the long run can be.
I already know people who are in their senior years and continue to do light rowing at home to keep their bodies fit and healthy. For this reason I can recommend this rowing machine for an age group of 18 – 80 years.
[wpcd_coupon id = 139682]
But which muscles do I train with it?
As soon as you practice the exercises consistently and correctly, you quickly become a strain and associated with it Strengthening of the entire back area to notice. In principle, this device also promotes the mobility and dynamics of the whole body, since I also use my arms and legs to exercise. That means that the Arms will definitely be strengthened with. Due to the fact that the legs are constantly moving, we automatically the leg muscles, even if it only takes place in a lesser sense.
Pros and cons Sportstech RSX500 rowing machine
Benefits
Upper body training possible at home
Ready for immediate use
16 different intensities selectable
Easy handling
Optimized motion sequence
age independent
Fair price segment
Disadvantages
construction time-consuming
First use seems complex
Very difficult
Conclusion: Sportstech RSX500 rowing machine in the test
As a conclusion, I can state that I have tested a robust and, above all, well-made rowing machine. It offers for Beginner and Advanced the optimal training process for at home. The movements run smooth and without interference. The device has me absolutely convinced and I definitely recommend it.
What particularly pleases me, in addition to the market-driven and fair price segment the stability of the device, as well as the workmanship. I always had the feeling that my back was actually being used and strengthened. I find the course of the exercise to be pleasant, I was never in pain.
The Sportstech RSX500 rowing machine for currently 599 Euros is absolutely an alternative to your other rowing machines with water resistance, which I think are overpriced. Even if I was skeptical at the beginning whether a magnetic resistance would serve its purpose, I am now overall absolutely satisfied and can make a purchase recommendation.
I can also imagine that it might help some people with back problems to relieve pain in the long term. For this purpose, you should always train regularly and not use the intensity too much.
Recommended reading: Squat machine
Find the best & best-selling rowing machines products 2023 in Honest Tests
Reading tips: coole DIY Projects | Fitness | You like product testing read?
Product selection
Updated December 11, 2023 21:13
---
* Product images & links | Source: Amazon PA API | Last update on 11.12.2023/XNUMX/XNUMX | * = Affiliate links | Prices quoted on this website may have changed. The actual price of a product can be found on the seller's website. Real-time updates are technically not possible. Prices including VAT plus shipping costs
---