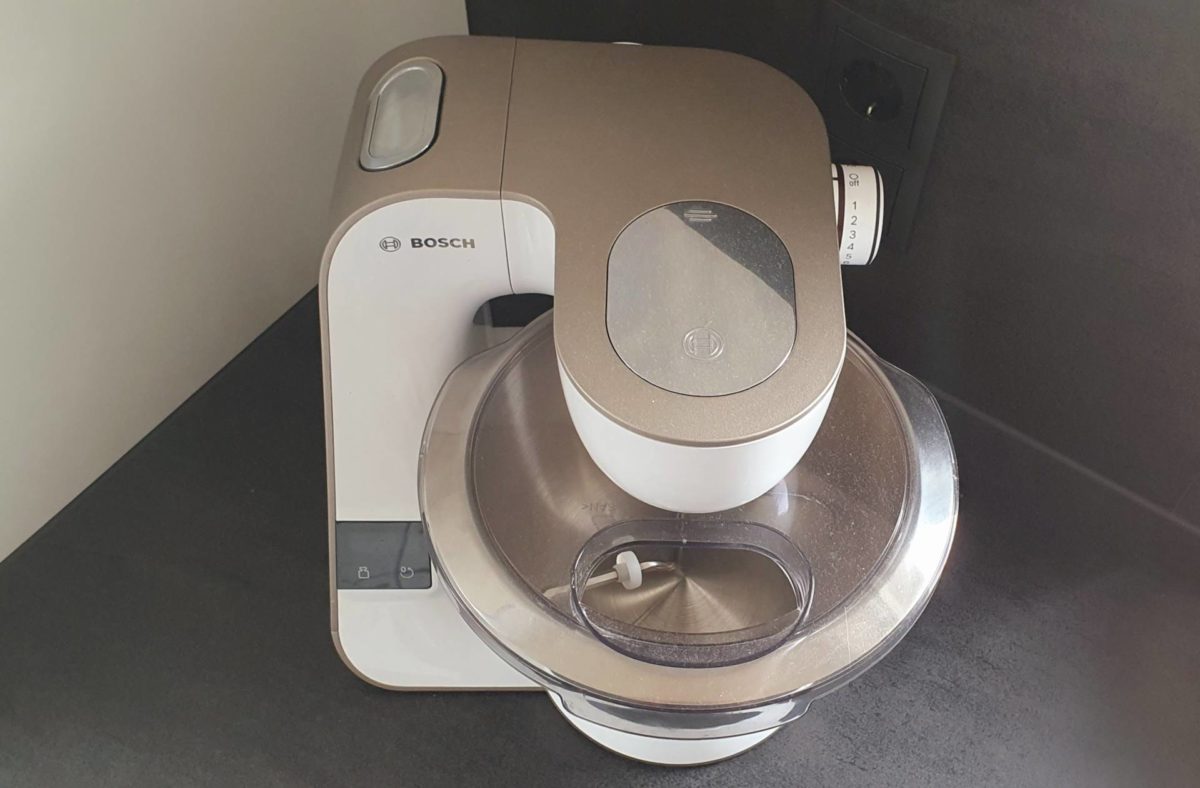 I was looking for a food processor for the home that was versatile, reliable, yet affordable. I'm on the model MUM 5 CreationLine from Bosch came across as this model apparently meets all of my requirements.
The Bosch MUM 5 food processor has a multitude of options and comes with a large number of accessories for flexible preparation.
But is the Bosch MUM5 CreationLine a good alternative to the well-known Thermomix? I tested the device for 269 euros and now report strengths and weaknesses.
Bosch MUM in comparison
Commissioning / scope of delivery
The Bosch kitchen machine initially delivers a great design and makes a modern impression. The basic system consists only of the machine and the saucepan. Bosch also supplies a large selection of accessories.
Accesories: Plastic, mixer attachment, rasp disc, grater disc, medium-fine, whisk, cutting disc, citrus press, lid, continuous shredder, stainless steel mixing bowl, meat grinder, dough hook, metal, accessory bag dark gray, recipe DVD
In particular the large mixing bowl and the Heater I think it's worth mentioning, because almost everything can be prepared with it that I would otherwise also use, for example Thermomix can make.
The 900 watts, powerful motor cuts onions, potatoes etc. in a matter of seconds. Here you can 7 different levels of strength can be set in order to obtain the best possible individual cooking result.
Overall is with the MUM 5 Creation Line In addition to cooking, baking is also possible. With 3,9 l Volume, the high-quality bowl is just the right size for baking cakes or for cooking.
What can I prepare with the Bosch MUM 5 food processor? How is the handling
The versatile kitchen machine from Bosch can be used to prepare a large number of different dishes. In principle, in addition to Cooking also the Gebäck will. Accordingly, to name just a few examples, bread and baguettes can also be prepared in addition to mashed potatoes, soups and casseroles. I think that's pretty versatile.
Bosch supplies a DVD in the scope of delivery, which contains a number of different recipes. Alternatively, there are other nice and interesting recipes to look at online. What I'm particularly happy about is that the recipes are super easy to implement, just put all the ingredients in the container and let the machine work.
I was skeptical at first, but cooking this way definitely saves me work, as I need less pots and less time and there is also no need for final cleaning. All accessories are easy to clean and dishwasher safe.
I find the handling to be super easy. The basic device is basically self-explanatory. Depending on the preparation, the Bosch kitchen machine can be equipped with the right accessories. There are a number of different attachments that ensure the desired cooking result. For example, the chopper, mixer, citrus press or simply the mixing bowl can be used.
The device with a Dead weight of 7,1 kg has a firm footing and is generally robust and durable. With a Capacity of up to 3,9 liters Various items can also be prepared for larger families.
Recommended reading: Silvercrest cooking machine
Who is the Bosch MUM 5 kitchen machine suitable for?
The Bosch kitchen machine is basically suitable for every household. Due to the time saved by the cooking method, this food processor is particularly recommended for families who have less time, but also for people who would like to try different dishes.
The range can be expanded and supplemented as required. This enables everyone to cook what they want.
Due to the space savings, the machine is therefore suitable for everyone who may have little time on a daily basis and would like to prepare quick dishes with this machine.
Assessing taste
After trying numerous recipes, including stews and soups, but also cooking meat and preparing bread, I can now provide information about the taste.
Before I would like to say, however, that I already have experience with the well-known Thermomix collected. In comparison, the Bosch MUM5 food processor cut off absolutely equally. Even if savings are made in one place or another, such as the lack of integrated scales, the taste of the Bosch machine has absolutely convinced me.
I found the meat to be very tender and the stew wasn't too watery. For the fact that you only need a few steps and little time for a dish, the taste has always convinced me. I am very satisfied with the taste and will continue to try new recipes.
Advantages and disadvantages
Benefits
Fair price segment
Lots of accessories included
Easy handling
Nice look, firm footing
Online recipes
Disadvantages
Conclusion: Bosch MUM 5 food processor
The Bosch MUM 5 kitchen machine is ultimately suitable for people who cook a lot and want to save time and effort. In my opinion, this machine can even keep up with the Thermomix and offers a wide range of cooking options.
I find the price segment to be absolutely fair, if you take into account everything that is included in the scope of delivery.
I was also won over by the taste, so I can say that buying the MUM239 CreationLine, which costs 5 euros, is definitely worthwhile!
Find the best & best-selling Bosch MUM 5 products 2022 in Honest Tests in the Top🔟
Reading tips: coole DIY Projects | FITNESS | You like product testing read?
---
* Product images & links | Source: Amazon PA API | Last update on 22.03.2023/XNUMX/XNUMX | * = Affiliate links | Prices quoted on this website may have changed. The actual price of a product can be found on the seller's website. Real-time updates are technically not possible. Prices including VAT plus shipping costs
---