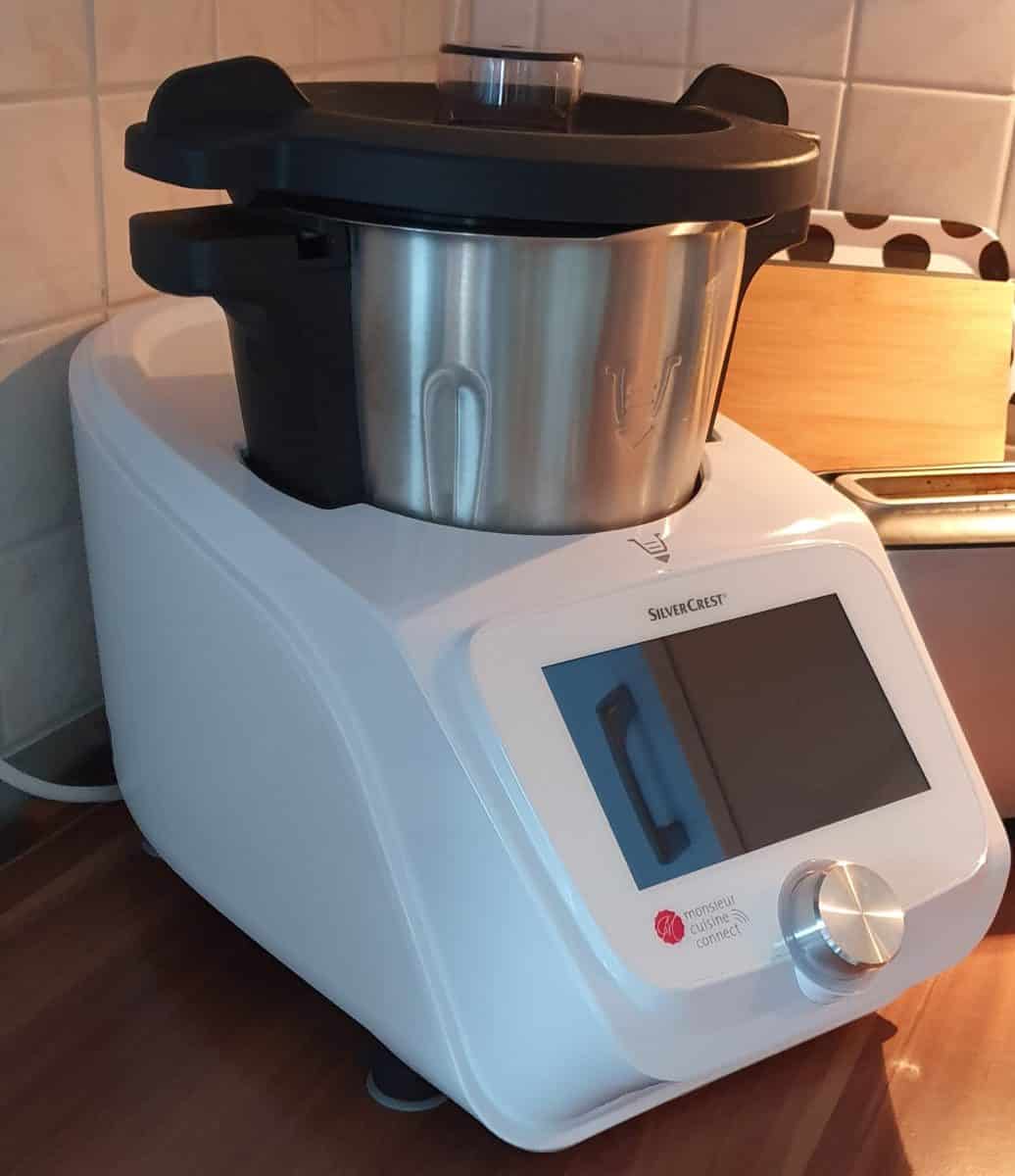 The food processor Silvercrest Monsieur Cuisine (LIDL's own brand) is intended to represent the counterpart and a cheaper alternative to the well-known Thermomix. The manufacturer praises this model as a real "multi-talent" at a price of 349 EURO at. It offers a variety of cooking options and operation and cooking processes should be particularly easy with the help of digitally mapped recipes.
I have tested this Silvercrest food processor and tell you about my experiences.
Cooking machine in comparison
Technical data: Monsieur Cuisine kitchen machine
Basics:
Cooking function: 1.000 watts
Mix: 800 watts
number of revolutions: approx. 120 to 5.200 rpm
temperature adjustment from 37 to 130 ° C
Device dimensions: approx. 49,5 x 31,0 x 37,5 cm
Power cord length: approx. 110 cm - with cable pull
Gerät: approx.7,1 kg
Device including accessories: approx.10,6 kg
Features:
Adjustable temperature (in 5 ° C steps, for precise cooking)
10-step speed setting
Turbo function
7-inch touchscreen display
WiFi
99 minute timer
Cooking Pilot (over 164 pre-installed recipes)
access to Online recipe database (with hundreds of recipes)
Recipes app

First impression: Silvercrest Monsieur Cuisine food processor
The Monsieur Cuisine SKMC 1200 E5 food processor makes a great first impression. The size of the device is optimal and fits perfectly into the kitchen. After connecting, the 7-inch display lights up immediately. The colored images seem big enough to me and seem to be completely sufficient for everyday use.
Various accessories are already supplied, which can be quickly and easily inserted and exchanged as required.
With this food processor, LIDL has definitely already achieved that you want to start cooking right away!
The first steps with Monsieur Cuisine
After switching it on, I first familiarized myself with the device using the operating instructions. At first, the many functions seem rather intimidating. However, the menu, which is displayed digitally, guides you clearly through various steps and settings.
After I had already informed myself about kitchen machines from manufacturers such as Bosch, Kenwood or Aldi, this model from LIDL seemed to me to be suitable in terms of price-performance ratio.
With the help of the menu, I quickly realized what a great deal is possible with the machine. In addition to cooking and roasting, it can also be used for steaming, stirring and kneading, emulsifying, pureeing, mixing, chopping and weighing. That sounds incredibly versatile to me!
Example:
The accessories included in the scope of delivery can be used to prepare soups, risottos and stews by rotating the knife attachment counterclockwise. By turning clockwise, ingredients such as onions and potatoes can be chopped up. All of this works in a simple way at the push of a button!
What I quickly noticed in the first use is that you really enjoy it and also dare to try dishes that previously seemed sacrosanct.
First cooking and taste test
But now I finally want to go to the practice and have strictly followed the recipe that was shown on the display. It's supposed to be a bean stew!
I got all the ingredients. The instructions stipulated that everythingand seasoning should be put in the pot, i.e. potatoes, beans, minced meat, carrots, salt and pepper and vegetable broth. Through the integrated scale the ingredients can be added as prescribed, so it is no longer necessary to weigh each item individually! Then you set the temperature and time digitally and cooking starts all by itself. Now all you have to do is wait! It was a strange feeling for me at first, because otherwise I always stayed at the stove. Now I've vacuumed and done laundry in the meantime! In the meantime, the chopping of the onion was a bit noisy.
When the timer has expired, the end of cooking is announced by a non-annoying acoustic signal. Attention, the pot gets very hot here too! The result looked at least once very appetizing.
But does it taste good too?
To put it in a nutshell AND! Despite minimal effort, the stew tastes delicious, just like traditionally cooked. The seasoning turned out great too! Overall, the result is very successful.
I think that you can expand your cooking horizons because of the enormous selection of recipes!
CLEANING | Silvercrest Monsieur Cuisine food processor
Is cleaning time-consuming? I have tested it:
A great advantage of Silvercrest Monsieur Cuisine is that it includes a self-cleaning program. To do this, I need a liter of water at room temperature and some washing-up liquid. Now simply fill the water and detergent in the blender jug ​​and heat them up (2 minutes at 90 ° C / level 2). For an optimal cleaning result, the water should now be at least 45 ° C warm. If this is not the case, extend the process by a few seconds.
Then stir the rinsing water with the measuring cup inserted gradually increasing (30 seconds at level 7-10).
Alternatively, some can be put in the dishwasher. Attention: The basic device must not be inside! Various pots, inserts and knives can be put in the dishwasher without any worries. However, it sometimes takes up a lot of space, but it is comfortable.
Tip: How to remove burnt food from the Silvercrest Monsieur Cuisine food processor?
Lies here !
What Advantages and disadvantages?
Benefits
Great variety of cooking options
Large selection of recipes
Step-by-step instructions
Integrated scale
Clear presentation on the display
Self-cleaning possible
Disadvantages
Complexity seems intimidating at first
the "cooking feeling" can be lost
sometimes loud when chopping
Takes up space in the dishwasher
Some accessories have to be purchased separately
Brief tips from me
LIDL sells the Monsieur Cuisine kitchen machine with various accessories. For example, if you want to cook something culinary, you sometimes need additional attachments and stirring sticks. These can be conveniently purchased online, but of course they cost money.
Despite the guarantee, it can happen that parts become defective in regular use. Spare parts can be reordered quickly and easily online.
I can recommend that you pre-wash using the self-cleaning program before cleaning with the dishwasher. Otherwise residues will remain, especially with stubborn burned-on items.
Silvercrest sells a membership that allows additional recipes to be obtained online for free. To do this, everyone should first look through the existing recipes. If these are sufficient, there is no need to spend any more money on membership.
Conclusion: Silvercrest Monsieur Cuisine food processor
As a result, the food processor relieves me of an enormous amount of work. It gives me time to do other things in the meantime. In my opinion, the variety of this machine absolutely justifies the price of approx. 349 EUROS.
I find the Monsieur Cuisine to be absolutely competitive with the Thermomix. With me she passed the test, even if one or the other could be improved. That would, however, be "complaining at a high level".
The kitchen machine is Monsieur Cuisine Visually, functionally and in terms of price a very successful product with the possibility of a large expansion of the range.
other products & accessories Silvercrest Monsieur Cuisine
Find the best & best-selling Silvercrest Monsieur Cuisine products 2023 in Honest Tests in the Top🔟
Reading tips: coole DIY Projects | Fitness | You like product testing read?
---
* Product images & links | Source: Amazon PA API | Last update on 10.12.2023/XNUMX/XNUMX | * = Affiliate links | Prices quoted on this website may have changed. The actual price of a product can be found on the seller's website. Real-time updates are technically not possible. Prices including VAT plus shipping costs
---