Nice that you landed here. Here you can find it Part 2 to our RC fun adventure. The You can read part 1 here! As RC car beginners, we (dad & son) enjoy having fun with the DEERC 300E & DEERC 302E RC Cars. Now we're in the mood to close things up a bit Tune or to pimp We try one larger 3S Li-Po 1500 mha battery out. We want or have to the attachment from the Li-Po battery more child-friendly make and build one LED lighting one. We try those body/shell/chassi more stable for one longer durability against damage to protect and fix our first accident damage. We hope you enjoy reading and rebuilding.
Battery tuning: 3S Li-Po 1500 mha battery in DEERC 300E & DEERC 302E
The brushless motor of both RC vehicles tolerate 2S & 3S Li-Po batteries. Both are included in the pack 2x 2S Li-Po 1200mha batteries. We wanted one now 3S LiPo battery which also has a slightly larger capacity and looked on the internet.
Buy 3S Li-Po battery + accessories for your RC car tuning
The problem: All 3S LiPo batteriesthat we found on the internet are longer and wider than the existing battery space in the RC car (approx. 6,5 cm x 3,2 cm x 2,2 cm). If you find shorter 3S Li-Po batteries, please leave a comment. The shortest 3S battery we have at Amazon found is 7,3 cm long and has 1500 mha. Here is some data on the RC Li-Po batteries for the remote-controlled cars.
Original 2S battery
Size: 6 cm x 3 cm x 2 cm (L,W,H)
Cells: 2S
capacity: 1200 mha
Tension: 7.4 V
Connection: T connector
Weight: 61 g
Name: DEERC
Purchased 3S battery
Size: 7,2cm x 3,5cm x 2,7cm (L,W,H)
Cells: 3S
capacity: 1500 mm
Tension: 11.1 V
Connection: XT60
Weight: 130 g
Name: GOLD BAT
Attention! In addition, we still have connectors from T connector to XT60 connector bought. The connector must be one side female T connector and others have male XT60 connector, otherwise you can't connect brushless motor and battery in DEERC RC car. the Battery is a lot bigger, so we still have Velcro cable ties ordered in different sizes. Velcro cable connectors may come with the batteries themselves. Keep that in mind when making your purchase!
XT60 connector to T connector in DEERC 300E T (4)
XT60 connector to T connector in DEERC 300E T (3)
XT60 connector to T connector in DEERC 300E T (2)
XT60 connector to T connector in DEERC 300E T (1)
Charger for S3 batteries
Since there is no charger included with the 3S batteries, we needed a charger. Here we immediately decided on a universal charger for every S size and immediately bought the B6 charger for Li-Po batteries and others. It fits for S1 - S6.
The next day, thanks to fast delivery from Amazon, we were able to install and test everything. Once you figure out how to Velcro cable ties best fits that 3S LiPo battery holds well and would like to use the 2S again if necessary, the change and installation works very well. As you can see, the 3S Li-Po battery is a lot longer and hangs at an angle on the servo motor on the nipple, which, however, presses into the battery at the front.
So this nipple is with us DEERC 300E broken off, which is not bad, the 3S LiPo battery is less inclined and still does not affect or interfere with the power steering. If it still interferes with the servo lever, lekt something under the AKKU so that it is a little higher again. Everything is now firmly in place and the DEERC 300E & DEERC 302E is used for the 1st RC tuning test with 3S Li-Po battery | 11.1V | 1500 mha prepared.
DEERC RC tuning test with new 3S Li-Po battery
Due to the newly installed battery, the RC car has become around 70 g heavier. Since the two RC cars, in our opinion, have a strong motor and the battery has more power, the additional weight shouldn't really be noticeable. In the first test, the maximum speed was reduced to minimum using the rotary control on the radio remote control.
The acceleration was real though a lot of and also the top speed! We shot that Limit slider to maximum and the RC car became easy even more to the beast like it, that with that 2S LiPo battery it was really awesome. the DEERC cars are extremely fast with 3S Li-Po batteries. Of course, more sensitivity is now required for the controls.
How fast that DEERC 300E & DEERC 302E with 2S & 3S at top speed is and a throttling, you can here in the 3rd part of our RC fun adventure leat.
Make the battery holder more comfortable/child-friendly
As you noticed when you bought the 3S battery, you should Velcro cable ties for attaching the Li-Po batteryuse s. A short Velcro cable connector is recommended for the 2S battery. This has the advantage that you do not need 2 parts to attach the battery. It was always difficult and fiddly for my son to attach the 2S Li-Po battery with pressure and the clip with the clamp connector. The bracket with the clamp connector for attaching the 3S battery is no longer usable anyway due to its size. Now with velcro cable ties for everyone faster and easier.
We immediately bought a pack of 25 because you can always use them, also for other things.
Here were included: 3 different sizes | 10x12cm | 10 x 20cm | 5x 30cm
Velcro cable ties in different lengths
Find, buy & install LED lighting
You will not be able to buy the DEERC 300E with LED lighting on the Internet. You won't even find the DEERC 302E with LED light. Many small and cheap 1:18 RC cars do not have LED lights on the RC car body. Since it is now getting dark very early in winter and the cars are difficult to see from a distance with increasing twilight, we came up with the idea of ​​retrofitting LED lights in the RC cars. The good thing about the 300E & 302E is that it comes with a pre-installed LED connector.
So we didn't have to choose plan B. Here we would have installed LED light with mini battery or used a small chain of lights. There are also animal LED light strips that could have been put in the RC cars to have underbody lights.
Bought LED lighting with 6 LEDs
We chose 2x white LED front lights and 2x red LED taillights decided. In addition, we wanted 2x LED light, which light up inside or under the body/shell/chassi to create a kind underbody lightingg because the shell is quite open at the bottom. We found this RC car LED lighting with 2x white LED, 2x red LED and 2x blue LED (slightly smaller).
The problem: The LED connector in the RC car is tiny and, as we have found, too tiny for our ordered LED LIGHT and its connector. We had to improvise here.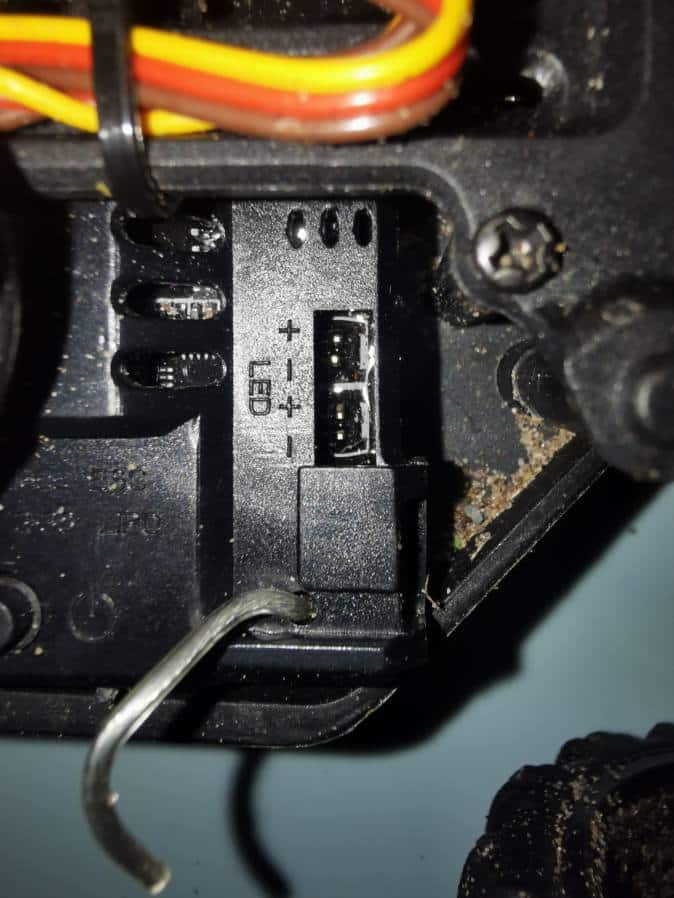 Deerc_300E_LED Lighting_RC Car (3)
Deerc_300E_LED Lighting_RC Car (5)
Deerc_300E_LED Lighting_RC Car (4)
Deerc_300E_LED Lighting_RC Car (6)
Deerc_300E_LED Lighting_RC Car (7)
Deerc_300E_LED Lighting_RC Car (2)
Deerc_300E_LED Lighting_RC Car (1)
Deerc-300E_Bumperskin_protection-against_damage (4)
Install RC LED lighting
The black connecting plug from the LED string was removed and both cables were individually plugged into the LED light connection of the DEERC 300E at the correct +plus and -minus. We fixed everything with hot glue (waterproof as a side effect). The work was a little fiddly, but it worked.
Then the existing but too small holes in the front bumper of the DEERC 300E were enlarged with a drill. The LEDs were fixed at the front and back with some hot glue. The loose wires were tied into a wire harness with zip ties and attached in the middle. Of course, we checked everything for functionality beforehand. The DEERC 300E with LED light is ready!
DEERC 300E with LED light (6x LED) in the test
On the same day, we tested the RC LED lighting system from dusk to complete darkness outdoors. The installation is not that difficult and is definitely worth it. The RC LED lighting system looks very cool and greatly simplifies perception of the RC car from a great distance. The front and rear lights help a lot with the controls, since you can see how the vehicle is standing and driving at a long distance. The blue LEDs give the RC car extra light on the ground and looks very good.
Pimp the body/shell/chassi against damage
The 4WD RC off-road vehicles from Deerc do a lot of action! Collisions with stones, curbs, trees, etc. happen again and again. When jumping over ramps, stunts or wheelis, they can quickly overturn the RC cars and have to take a lot, you can see that from the shell to sit on. Scratches, cracks or ground-through holes are inevitable. Here are a few simple ideas to add some durability to the shell/chassi.
From Inside with duct tape Reinforce everything, especially the corners. This means fewer cracks or small pieces breaking off.
From Outside transparent tape or adhesive film apply to some surfaces. So there is not a direct scratch in the paint or the color sample. It additionally makes the shell more stable against cracking and breaking.
If you like, you can also from Complete with duct tape on the outside Glue everything, it looks stupid if you don't color something yourself, but very stable.
Since you 2 shelln available to sit on any DEERC model, you can put both on at the same time. The 1st shell that absorbs all the damage and the 2nd shell underneath that provides more stability and keeps looking good.
How else could the shell be protected from external influences? This is where we came up with the idea of ​​a roll cage and simply formed a kind of second skin or bumper skin for the body/chassi with hot glue. For this we covered a bowl with foil and then connected all the edges together with the hot glue gun and let them cool down. Glued a few more holding points and you could now put on a kind of protective skin.
Homemade Protection Skin | Bumper skin for RC car in the test
Admittedly it takes a bit of work and doesn't necessarily look nice, the bright hot glue from the hot glue gun. Afterwards we painted the bumperskin with a black ending, it just looks better in black. Spray paint is quicker. Then it was back out to test. Our concerns were that something would quickly tear off or slide down. My son fired the DEERC 300E with Bumperskin, LED lighting system and a 3S Li-Po battery over the asphalt of a water groove parking lot. It was the absolute practice & hardcore test for the RC car, with conversions and extras for honest tests.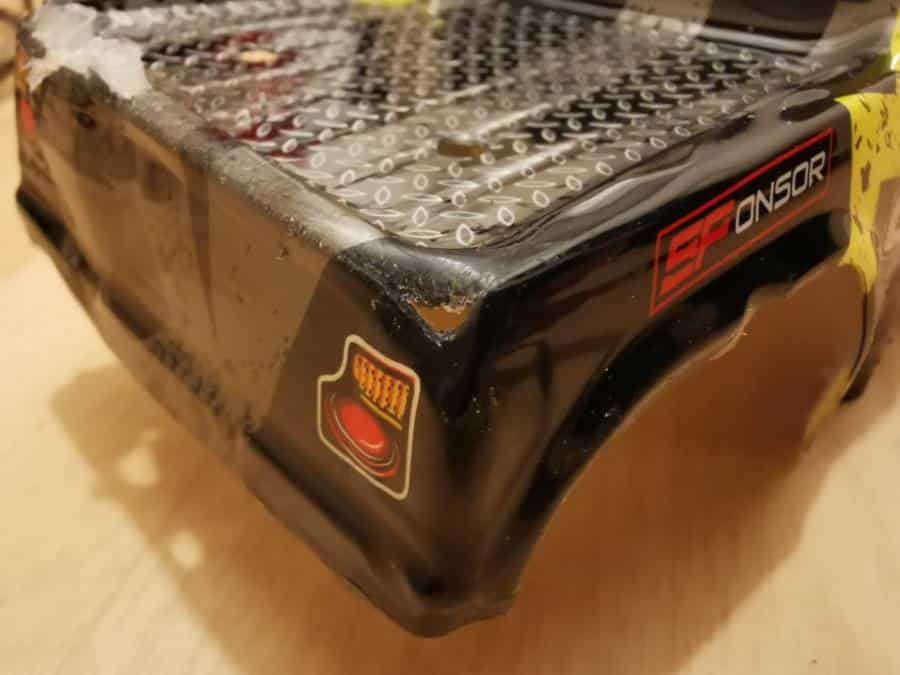 Deerc-300E_Bumperskin_protection-against_damage (8)
Deerc-300E_Bumperskin_protection-against_damage (7)
Deerc-300E_Bumperskin_protection-against_damage (3)
Deerc-300E_Bumperskin_protection-against_damage (2)
Deerc-300E_Bumperskin_protection-against_damage (6)
Deerc-300E_Bumperskin_protection-against_damage (5)
The little RC beast threw, rumbled, rolled over constantly and had to take a lot. My son loved the LED light and the speed. I just thought WOW the Bumperskin really brings a lot and was glad that the Bumperskin was on it, without it the shell would have worn through completely and would have had some damage. The bumperskin held up great and nothing ripped or came loose.
After the brutal test drive with the DEERC 300E, you could see through the sanded-off paint on the bumper skin what the RC car had to endure. This bumperskin really brings a lot for the longer durability with a lot of action. You don't have to keep buying new bowls when they are completely useless or don't look like anything anymore. With the other tips on the shell/chassi you simply have less damage and a longer service life.
Repair of the first accident damage on the DEERC RC car
Before we started tuning the DEERC model, we had 2 accident damages after a few rides. The DEERC RC cars are very robust, but if the driver gets caught too close to a fence with a front wheel, that's their own fault and that's what happens. This happened to both cars.
Accident damage to the DEERC 300E: the upper shock absorber attachment broke off here. You can reorder all parts, but we have the super glue weld seam or something similar 🙂 It has been repaired and is rock solid. The shock absorber can continue to do its job for now.
Accident damage to the DEERC 302E: the front drive shaft jumped out of the wheel bush and jammed. The wheel with wheel bearing was removed in order to reposition the drive shaft in the wheel bush. Put everything back together and you're done.
Here the little man could participate and screw with interest.
Conclusion on the end result of our DEERC RC car tuning & pimping
We can hereby tell you that a 3S LiPo battery in the DEERC RC models Totally worth it and even more fun than you already have 2S LiPo battery have. LED at a RC model is always a great thing and brings further advantages for longer driving fun in the evening. The upgrade was definitely worth it. If you don't want it or don't trust it, you can use our tips to make your RC car shine in a different way. The self-made bumperskin made of hot glue, which has a flexible and dampening effect, was a great idea of ​​ours. Repairs are inevitable. There are enough spare parts on the internet. If you drive RC cars, you also have to do some tinkering 🙂 .
You see, whoever is in the mood and wants to can RC cars work a lot and have fun. Especially for dads with son a nice time together. We can highly recommend DEERC and its 300E and 302E with a lot of fun.
Do you have further tuning tips, conversions, ideas or questions? Feel free to comment below!
Find in the Top🔟 the best & best selling DEERC RC Car Brushless 4WD Products 2023 on Honest Reviews
Reading tips: coole DIY Projects | Fitness | You like product testing read?
---
* Product images & links | Source: Amazon PA API | Last update on 10.12.2023/XNUMX/XNUMX | * = Affiliate links | Prices quoted on this website may have changed. The actual price of a product can be found on the seller's website. Real-time updates are technically not possible. Prices including VAT plus shipping costs
---