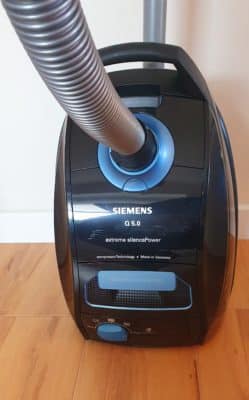 After my old vacuum cleaner gave up its ghost, I started looking for a contemporary vacuum cleaner that has a strong suction power and also sucks quietly. Compared to others, that has Model VSQ5X1230 from Siemens Best cut in my opinion, so I opted for this vacuum cleaner.
The Siemens vacuum cleaner Q5.0 fulfills all of my important criteria, it has powerful 850 Watt and also about the so-called Silence Power, what a makes particularly quiet suction possible.
I asked myself whether this Siemens vacuum cleaner really turned out better in comparison and tested it for strengths and weaknesses.
Commissioning | First impression
The Siemens Q5.0 vacuum cleaner is quick to assemble. To have to At first only the suction hose and the suction head have to be connected, which can be done in a simple way using the click system. Then one of the mThe supplied vacuum cleaner bag is installed in the device and is therefore the first The sowing process is already ready to go.
The first impression was very positive, I had a very robust device in front of me, which has numerous different attachments for a wide variety of substrates disposes.
The 7,1 Kg heavy vacuum cleaner is with his 850 Watt, compared to others Models, especially power saving. The manufacturer states a consumption of only 34 KW / h per year. The capacity is titled with 4,5 liters, which is generously designed.
Another noteworthy point is that the vacuum cleaner has maximum power Noise level of only 70 db generated. Here, too, the value is well below that of Bosch or other vacuum cleaner manufacturers.
Siemens vacuum cleaner in comparison
Advantages of the Siemens vacuum cleaner Q5.0
The Siemens VSQ5X1230 vacuum cleaner has one or the other technologically up-to-date function, which makes vacuuming considerably more pleasant.
The vacuum cleaner has the so-called Silence power. This function includes an active noise filter, with which you can only use one, even with full suction power finds quiet engine. At first I kept going under the suction brush looked to see if it really sucks, because the quiet sucking seemed strange to me. The Vacuum cleaner sucks absolutely strong despite its quiet motor and only generates one Noise level of 70 db.
Another plus point is that Siemens special vacuum cleaner bags used which also for allergic are suitable. The dust and dirt is safely stored in the bag and it prevents dust from being thrown back into the suction tube. This means that these bags last a very long time.
Siemens includes a number of different attachments with the a wide variety of substrates can be vacuumed. The vacuum cleaner is suitable for carpets, tiles, laminate and much more, with manual kicking at any time Changes to the suction brush can be made without having to change the attachment every time.
Siemens also delivers with the vacuum cleaner 13 meter long cable, what a Enables large-area vacuuming without having to constantly change the socket.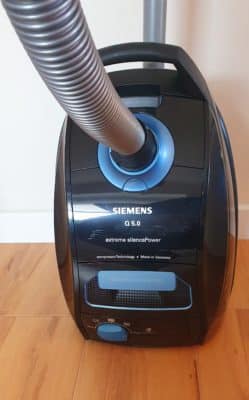 The first use |

Quality assessment
Now I was excited about the first use and first vacuumed on laminate. I used the corresponding essay. I set the suction power differently in order to be able to notice differences. At medium suction strength, the vacuum cleaner is really very quiet, almost pleasant, and nevertheless sucks absolutely intensively and thoroughly.
In particular, the Siemens Q5.0 vacuum cleaner has the advantage that the same attachment can also be used for large carpets. To do this, simply kick a reversible roller brush activated. That saves a lot of time and is a great idea.
The sucker affects me a lot professionally processed and always delivers a very strong suction power. Dust, sand, grains and dirt can be easily sucked in.
The large vacuum cleaner bag, with a capacity of 4,5 liters, enables long vacuuming, which of course also means saved money because the bags no longer have to be changed as often.
After vacuuming the sofa and other furniture, it turned out to be positive Result rounded down. The various essays also deliver really good ones Results.
Only that Bracket for the suction pipe on the device itself could be better processed become. The holder for inserting the suction tube was only a few times already bent to the side that the pipe could no longer be held.
I am still very impressed by the quality, in my test the Siemens vacuum cleaner Q5.0 VSQ5X1230 absolutely passed!
Video | Siemens vacuum cleaner Q5.0
Advantages and disadvantages
Siemens vacuum cleaner Q5.0
Advantages
Noteworthy quiet (maximum 70 db)
Particularly strong suction power
power-saving
Long connection cable (13 meters)
Big bags
Suitable for allergy sufferers
Disadvantages
Weak suction tube bracket
Summary: Siemens vacuum cleaner Q.5
In my test, the Siemens vacuum cleaner Q5.0 absolutely convinced. The suction power is very well made and can be adjusted quickly. The quiet motor also makes vacuuming pleasant and bearable. The vacuum cleaner avoids interruptions, for example when changing the socket, with a long connection cable.
In my opinion, the price of 128,99 euros is in line with the market and very fair in terms of performance.
So if you are looking for a reliable and powerful vacuum cleaner, you will do everything right with this device and be pleasantly surprised by the result.
Recommended reading: Dyson V11 review here ! Vacuum cleaner with battery here! Kärcher cordless window vac here !
Buy popular Siemens vacuum cleaner with bag | Buy Siemens vacuum cleaner with bag cheap online
Top 10 - Siemens vacuum cleaner with bag
- € 93,00
Topseller 1
Topseller 2
Find top 10 products
(best-selling & rated products)
Reading tips: coole DIY Projects | Fitness | You like product testing read?
---
* Product images & links | Source: Amazon PA API | Last update on 7.12.2021/XNUMX/XNUMX | * = Affiliate links | Prices quoted on this website may have changed. The actual price of a product can be found on the seller's website. Real-time updates are technically not possible. Prices including VAT plus shipping costs
---