From time to time printing and copying with a printer via WLAN from a PC or smartphone. Color prints are not important. It shouldn't be ink either. Budget up to € 200. With these specifications and some research, the choice fell on a B / W laser printer from HP HP LaserJet Pro MFP M28w. According to information, this laser printer is even the smallest in its class. You can read the setup and test in the post. - B / W laser printer from HP
Scope of delivery | HP LaserJet Pro MFP M28w
The HP LaserJet Pro MFP M28w laser printer
1x Euro adapter power cable
1x Commonwealth power cable
Instructions in different languages
1x driver / software CD
1x USB cable (printer cable to router or PC)
Details on HP LaserJet Pro MFP M28w
What resolution does he have? How many sheets of paper does it take. How fast does it print? What scanner and copier functions does it have? Here you can find all the technical features and facts about the B / W laser printer from HP | HP LaserJet Pro MFP M28w
The HP LaserJet Pro MFP M28w is a wireless printer or more typical WiFi printer. You can connect it to the existing network with the router or directly from a smartphone print a lot. Nevertheless, this laser printer can be connected with a USB cable, which also simplifies installation a bit. The USB cable is no longer needed later if you only want to print via wireless connection. Of the B / W laser printer from HP effect no display or other players. The Design is simple and classic. He should print, scan and copy quickly. It was packed very well and safely. All moving parts were fixed with orange adhesive strips. The toner cartridge is fixed with styrofoam.
Setting up the B / W laser printer from HP
The HP LaserJet Pro MFP M28w is provided with lots of orange adhesive strips and also has other transport locks on the toner cartridge. These must be removed before commissioning. The instructions and 2 small notes point you out.
When you've removed everything from the laser printer, nothing should be anywhere orange colored catch the eye.
Here are more pictures from HP LaserJet Pro MFP M28w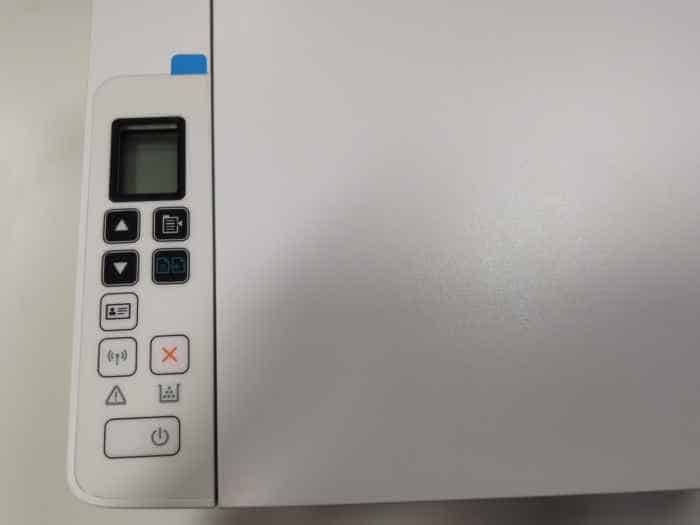 Installation and commissioning
The easiest way HP LaserJet Pro MFP M28w to install it must be connected to the power cable and the following:
Connect the HP LaserJet Pro MFP M28w with a PC or notebook that has a connection to the Internet (WLAN connection) with the USB cable.
Call in your internet browser https://123.hp.com/laserjet on, download HPEasystart.exe and follow the steps in the installation.
Finished! You can remove the USB printer cable and now wirelessly access the b / w laser printer from HP with any device in the network.
Mobile printing | HP LaserJet Pro MFP M28w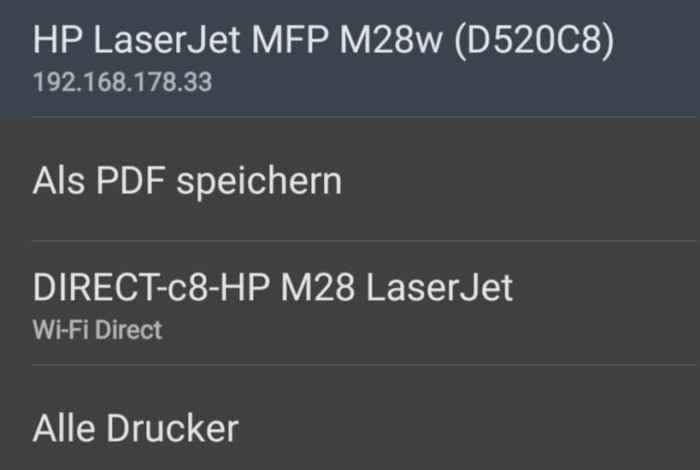 It is a nice function with the smartphone Send a PDF or other text file directly to the B / W laser printer and he prints it out. To do this, he does not necessarily have to be logged into the network. The laser printer from HP supports AirPrint and Wi-Fi directly. For more information on mobile printing, see HP Mobile Printing. My test with that Huawei P30 Pro and connecting and printing worked right away.
Scan & copy
The normal scanning and copying is easy and quick. number of Enter copies using the control paneln and it prints out the number of copies. He is with it Ideal for small and medium-sized companies or the home office. With 18 pages per minute he is quite nimble. You can find additional functions for scanning and copying under Technical features above.
You can also use the free software for additional scan functionsn download, such as optical character recognition (OCR). There you will also find operating instructions, firmware updates or other help for HP LaserJet Pro MFP M28w
The toner
The most expensive is of course the toner. Of the supplied toner has a print capacity of only 500 sheet, On newly purchased toner has a printing capacity of 1000 sheet. HP recommends using only genuine toner. If you still want to buy the toner cheaper, you can rely on third-party brands and hope that they are really compatible.
Conclusion: B / W laser printer from HP | HP LaserJet Pro MFP M28w
This b / w laser printer from HP costs 150 € to 170 € is quick to set up, works and prints quite well for my needs and is easy to use. We will see in time whether there will be problems with connections to other networks or smartphones. We will test the durability in use over the next few months. The first Toner change will come. A HP APP for the printers there is still to be installed, but I didn't want to create an extra account with HP because I don't need all of this for the time being. On the Internet, this B / W laser printer from HP is mainly used for writing well and so I think it will have a permanent place in the near future, let's hope. 😉
Find in the top 10 the best & best-selling SW laser printer products 2022 on honest tests
Topseller
% Savings %
new releases
Reading tips: coole DIY Projects | Fitness | You like product testing read?
---
* Product images & links | Source: Amazon PA API | Last update on 26.09.2022/XNUMX/XNUMX | * = Affiliate links | Prices quoted on this website may have changed. The actual price of a product can be found on the seller's website. Real-time updates are technically not possible. Prices including VAT plus shipping costs
---