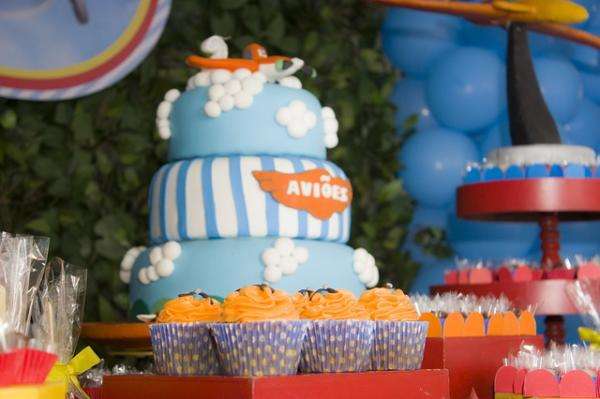 Children's birthday party - ideas and tips for planning
When your offspring's birthday is approaching, a stressful time begins for you. Planning birthday party for kids at home. All possible preparations must be made so that your favorite's birthday party is a great experience. It was a long time ago that you were a child, and you may be a little at a loss when it comes to planning the children's birthday party. So that you don't lose your head, we have put together a few suggestions and suggestions. - Plan birthday party for kids at home
Planning a happy birthday for children - a breeze with our tips.
The creation of lists has proven itself. This gives you an overview of the things to be organized. Write down everything you have to do and when. If you have fulfilled the respective point, you can tick it off.
The invitation
First of all, you should consider how many children your child can invite into your home. Who can come? Together with your child, you can add to your list which friends are invited to the party.
What should the invitation card look like? Do you have the time and inclination to make cards together with your child? Of course you can also buy invitation cards. These are labeled and given to your child's friends. It is important that the text includes the time and place of the birthday party! Hand over the invitations in good time before the celebration, i.e. about a week in advance. This gives your child's friends enough time to get a present.
Has every child received an invitation? Enter it accordingly in the list.
You can tick the acceptance or rejection of friends.
The meals
If you want to plan a birthday for children, food naturally plays a big role. The children's birthday usually takes place in the afternoon. If that is the case with you too, you will probably be responsible for catering for the little ones in the afternoons and evenings.
The following considerations will help you with the planning:
Coffee time
Which cake does your child particularly like? Maybe they also prefer muffins or other pastries? You can also serve biscuits, pudding or ice cream - or a bit of everything. Or you can prepare a delicious waffle batter in advance, which you can bake in the waffle iron when the children are already there. It doesn't always have to be cute. You can also offer something hearty. Lye pastries are popular with children, but a plate of fresh vegetables or fruit can also get lost between the sweets.
It is especially nice when everything is lovingly decorated. For Cakes and muffins candles offer themselves. You can decorate the table with confetti, plastic flowers or streamers.
Drinks
And what are the children drinking? Should it be lemonade, juice, water or tea? It is best to have different drinks at home so that every child can drink something they like.
Dinner and breakfast
For dinner, you should also consider what your and the other children like particularly well. But the effort involved in preparation is also important when deciding if you are going to prepare the food yourself. Dishes that can be served before the actual birthday party are well suited. Examples of dinners popular with children that can be prepared in a relatively short time or in advance.
Tip: When planning both meals, you should definitely clarify in advance whether one of the younger guests has allergies or food intolerances! Just ask the other parents beforehand.
How should the premises be decorated?
Balloons, streamers or a garland make your home a cozy location for a children's birthday party. You can also distribute confetti or create a cozy atmosphere with a colorful string of lights. A crown might be a good accessory for the birthday child. You can make these yourself or buy them.
Write a shopping list. You should write down everything you need to buy on this:
what ingredients do you need for meals?
Decoration for the rooms and the table
Surprises and small gifts for the guests
Invitations
possibly paper plates / plastic cups / napkins
Products: Children's games!
Games and entertainment
Plan birthday party for kids at home
But the little ones don't primarily come to eat. To plan a birthday for kids, you also need to provide entertainment.
The games that you probably played at birthday parties as a child have proven their worth. A selection with a short description in case you forgot how to do it:
Potting
You need: A pot, scarf, cloth or something similar. And a little present for every child.
A child is blindfolded so that he cannot see anything.
A pot is placed in the room with the other children. Under this you hide a surprise. This could be a small pack of Smarties or gummy bears, for example, or another small gift. Now the blindfolded child is given a wooden spoon. It goes on all fours and feels its way around the room with the wooden spoon to find the pot.
The other children give feedback as to whether the looking child is looking in the right direction (they shout "warm" ... up to "hot" when the pot is almost discovered). Likewise, if the child moves in the wrong direction ("cool"… "cold"… "ice cold")…. If the pot is found, the child receives its present. All children are allowed to search one after the other.
sack race
You need: A sack for each child, preferably a jute sack, if necessary a sleeping bag or an old duvet cover.
All children line up in a row. Everyone gets into their sack and holds onto it. At your command, the children jump off. Whoever reaches the finish line fastest has won.
Egg running
You need: A spoon and a raw egg for each child, plus a few eggs in reserve.
The children line up next to each other. The eggs are placed on the spoons and must not be held. Now the children run on your command, they have to balance the eggs and whoever reaches the goal first has won.
Hide
To catch
Alternatives
Perhaps you are considering not celebrating your child's birthday at your home. In summer you can party outside. If you don't have a garden, you can meet in a public park. A picnic or barbecue afternoon are ideal for catering here. And there is enough space for all kinds of movement games. If you are planning a birthday for children in bad weather or in winter, there are various alternatives.
You can rent space for the celebration, for example in a family center. There are games and catering options there. Or you plan to do an activity with the kids. What does your child particularly like? Maybe you want to go to a puppet theater, go to the cinema, or paint ceramics. Or do you prefer something sporty? Mini golf, bowling or a visit to the ice rink could be interesting.
In some places there are also indoor playgrounds where the little ones can let off steam in bad weather.
Whatever you choose - there are a few things to consider in advance:
Is the budget sufficient for entry and catering for all guests? If not, is there a cheaper alternative? Is the location of the birthday party easy to reach for all guests? Do you need support for the supervision of the child horde? Some of the other parents are sure to be happy to be there. Is there any management at the place of choice? Do I have to order something in advance? Can you bring something?
Well planned, your darling's birthday is sure to be a great experience! Our tip: don't lose your head and write everything down!
Reading tips: than Guide read | kitchen Tips | You like product testing read?
Product selection
Updated March 18, 2023 3:09 PM
---
* Product images & links | Source: Amazon PA API | Last update on 2.04.2023/XNUMX/XNUMX | * = Affiliate links | Prices quoted on this website may have changed. The actual price of a product can be found on the seller's website. Real-time updates are technically not possible. Prices including VAT plus shipping costs
---