Japanese snacks & sweets, whether to give away, snack yourself or to try out with friends. Such a box can contain 40-100 different Japanese sweets. We ordered and tested 2 snack boxes. Here you can find pictures of Japanese sweets. So you get an impression of what awaits you in the box. Perfect for trying out, very exciting and fun, can also be delicious. Have fun!
Which Japanese Candy & Snack Box did you order?
We have ordered 2 boxes! A package with 60 Japanese snacks & sweets and a package with 40 products. In each box there is an instruction leaflet in German. Some sweets or snacks are really small, but so are the Japanese 😉 but you often wonder what it should be or what it is in the packaging, as it is often very shrill and meaningless for us Germans.
1. Snack box 60:
60 Japanese Sweets & Snacks 10 Sushi Sweets Boxes...*
A total of 60 pieces in a box contains 10 Kit Kat 10 Sushi Candy 40 of the most popular sweets and snacks in Japan
Great gift idea for Birthday, Christmas, San Valentine and other occasion.
The chocolate item can be during delivery
10x Kit Kat different varieties (small) + 10 sushi candy(Candy in the form of sushi + 40 more Japanese snacks & sweets can be found in the following list.
If you don't want to know what's included or if you want to test it out with friends, DO NOT read the following list!
| | |
| --- | --- |
| 1. Tirol Choco Chocolate with biscuits | 21.Ume Mints mini plum-flavored candies |
| 2. Soybean flavored Kinako Mochi Fluffy Rice Cracker | 22. Crayon Shinchan Chocobi Ramune Ramune cocoa flavor |
| 3. Choco Daihuku Marshmallow filled with chocolate | 23.Yakisoba San Taro Crispy Noodles |
| 4. Pokemon chewing gum | 24.Potato Fry Fried Chi Chips with flavor |
| 5.Awadama Cider Candy | 25.Cabbage taro corn snack in a round shape with algae |
| 6.Uni mochi rice crackers with sea urchin flavor | 26.Mochi Taro Rice Crackers |
| 7.Ume no kamaki rice crackers with seaweed | 27.Umaibou Spicy Corn Snack Takoyaki Flavor |
| 8.Makengumi hand-formed gummy bears | 28.Umaibou spicy corn snack sugar rusk flavor |
| 9. Umaibou snack taste like shrimp mayonnaise | 29.Umai Tama mini cream puffs |
| 10. Umaibou snack flavor of cinnamon apple | 30.Shimichoco corn corn snack soaked in chocolate |
| 11. Iron salt chips 12. Home cake Mini cake snack | 31.Niginigi osushi yasan sushi shaped gummies |
| 12. Home cake mini cake snack | 32.Melon pandaro melon flavored biscuit |
| 13.Roanne thin light biscuit with vanilla cream | 33.Pukupuku tai fish shaped airy chocolate with waffle cake bowl |
| 14.Konpeitou flower sugar | 34.Sakuranbo mochi cherry flavored candy |
| 15.Hello kitty lollipop peach flavor | 35. Mini Bottle of Ramune Bottled Powder Ramune Candies |
| 16. Wasabinori taro chopped seaweed with wasabi flavor | 36.Pachi pachi panic cola cola popping candies with carbonated tablets |
| 17. Winnie the Pooh Marshmallow | 37.Sherbet Pero Lollipop with Soda Flavor and Sugar Powder |
| 18.Fugashi Brown Sugar Fluffy Dried Wheat Sweets | 38. Poriky barbecue pretzel sticks |
| 19.Kitkat Mini Matcha Flavor | 39.Kuppy Ramune Small round Ramune candies with orange, lemon and strawberry flavor |
| 20. Un Choco Animal chocolate | 40.Sour Paper Candy Long Sour Paper Candy Cola flavor |
2. Snack box 40:
10x Japanese Kitkat + 10x Candy Bento boxes + 30 more Japanese snacks & sweets
Unfortunately this is currently not available on Amazon! Some things in this box were already in the other one.
Japanese sweets - pictures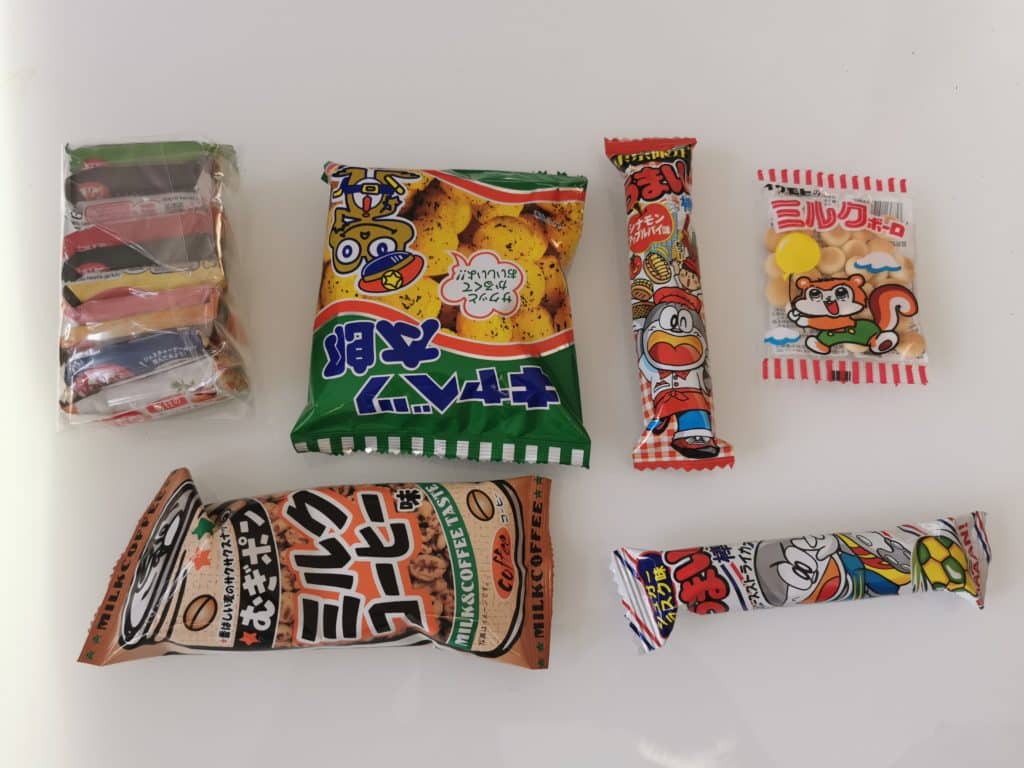 Conclusion: Japanese candy box
The snack boxes are fun: if you can meet in a small group and try your way through the boxes together, it's fun to see how other people don't like something or wonder what's inside, since not every sweetness is recognizable from the outside what is inside the packaging.
Most of it tastes quite good, but if you don't like something, it can be more fun for the others. Great as a party mix on a sociable evening;). Put new sweets from other countries in front of your child's nose, it can be fun. Highly recommended as a gift idea!
Tip: Have a Sunday family coffee get-together and have fun!
more Japanese sweets
Reading tips: than Guide read | kitchen Tips | You like product testing read?
Product selection
Updated December 10, 2023 19:35
---
* Product images & links | Source: Amazon PA API | Last update on 10.12.2023/XNUMX/XNUMX | * = Affiliate links | Prices quoted on this website may have changed. The actual price of a product can be found on the seller's website. Real-time updates are technically not possible. Prices including VAT plus shipping costs
---